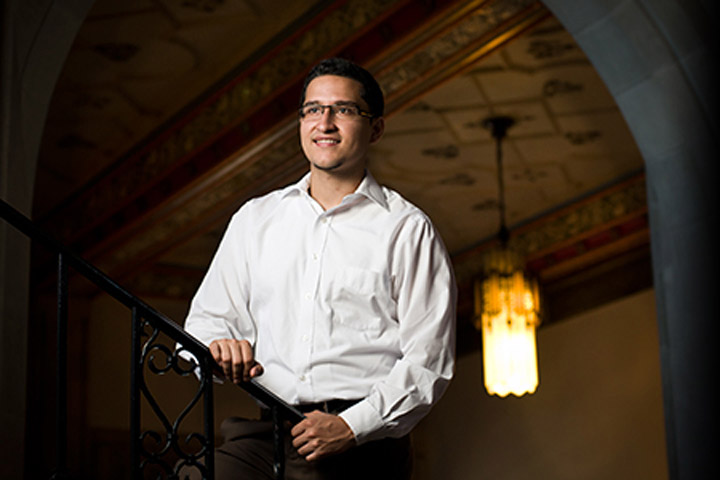 "I have never sought to be someone notable, but rather to do something meaningful."
As the first in his family to attend college in the United States, Ecuadorian native Jesid Acosta, who immigrated with his family to the United States when he was 10 years old, was determined to make the most of his college career even before he arrived at Florida State University.
Now a senior, Acosta is hard at work finishing his Honors in the Major thesis. What's more, he is a member of the inaugural class of a new scholars program in the College of Social Sciences and Public Policy, and was named a finalist for a 2012 Truman Scholarship based on his commitment to public service.
"In coming to Florida State, I knew that I had been given a great opportunity and I did not want any part of it go to waste," Acosta said.
"To excel academically, I pursued my passion for international relations," he said. "To develop my leadership skills, I ran for and won a seat in the Student Senate, served as co-chairman of the university's Latino Leadership Program and served as a trustee of the university's Student Foundation. To honor my roots, I joined the Hispanic/Latino Student Union and the FSU chapter of the Phi Iota Alpha Latino fraternity."
In his international affairs coursework, Acosta is writing an honors thesis about the evolving Union of South American Nations (USAN), which is modeled after the European Union.
"I'm studying the Andean Community, which is composed of Bolivia, Colombia, Ecuador and Peru, and Mercosur, which includes Brazil and Argentina," Acosta said. "These nations are an important part of the USAN's plan to integrate South America."
Florida State political science professor and department chair Dale Smith is supervising Acosta's research.
Through his affiliation with the Social Science Scholars Program of the College of Social Science and Public Policy, Acosta was able to attend a conference this past summer in Ecuador hosted by the United Nations University Institute of Comparative Regional Integration Studies and the University of Simon Bolivar Los Andes. While there, he met other scholars studying the integration systems of South America. They helped him develop his thesis and sharpen its focus.
Beyond his coursework, Acosta has actively involved himself in service to others. During the fall 2011 semester, Acosta founded LEONES — Leaders Empowering Others in Need of Education and Service — a student group at Florida State that mentors local K-12 students for whom English is a second language.
"My work through LEONES reminds me that not too long ago, I was where these K-12 students are," Acosta said. "I began learning English as a second language in sixth grade. By the following year, I had pretty much mastered it, but some students in my class had not. Today, I see myself in the students we mentor, so I want to be able to help them accomplish as much as they can."
The LEONES mentors work to build the confidence of their mentees not only as academic tutors but as coaches of extracurricular sporting activities.
"It is a delight to be role models for these students and show them that college is an obtainable goal," Acosta said.
After he earns his bachelor's degree, Acosta plans to join Teach For America to work to alleviate educational inequalities here at home. Afterward, he intends to pursue a law degree in international law and then hopes to work for a major international group such as the World Trade Organization.
"I have always wanted to serve my community by looking at challenges as opportunities for learning and growth," Acosta said. "I have never sought to be someone notable, but rather to do something meaningful. In my experience, there is nothing more meaningful than to help others in need."
---
Produced by the offices of Information Technology Services, the Provost, Student Affairs, Undergraduate Studies and University Communications.