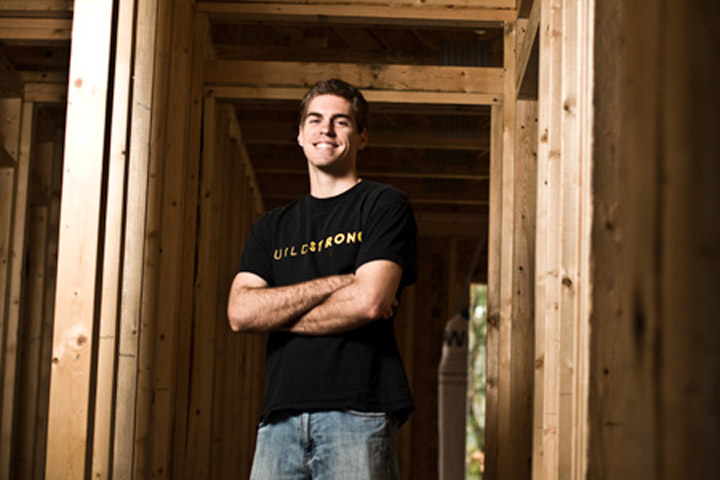 "The relationships that I developed through Habitat have shaped the individual that I have become."
When senior Christopher Roberts looks back on his four years as a student at Florida State University, he will always be able to take pride in the fact that he helped put a roof over the heads of four separate Tallahassee families. As a freshman, Roberts began volunteering with the FSU chapter of Habitat for Humanity. His involvement with the organization has become one of his strongest passions.
"During my four years, FSU's Habitat chapter sponsored and built a house each year," Roberts said.
Four houses in four years is no small accomplishment considering that a group of college students had to raise more than $50,000 for each house.
"It took countless hours of dedication and determination, but all the hard work was well worth the sacrifices when considering the gratification of being able to permanently affect the lives of families within our community," he said.
Last year, during Roberts' tenure as chapter president, FSU's Habitat chapter was recognized as the university's Student Organization of the Year and its adviser, geological sciences Associate Professor Joseph Donoghue, was named Faculty Adviser of the Year.
"I attend all of the weekly FSU Habitat executive board meetings and can attest that the group never had a more effective leader," Donoghue said.
As the homes get built, so too do friendships, according to Roberts.
"The relationships that I developed through Habitat have shaped the individual that I have become," he said.
What's more, Roberts forged a close relationship in the classroom with civil and environmental engineering Assistant Professor Sungmoon Jung while investigating energy-harvesting possibilities within civil engineering structures.
Beyond his civil engineering coursework, Roberts traveled to Peru during the summer of 2010 with a Benjamin A. Gilman International Scholarship to conduct an ethnographical study focusing on different communities' perceptions of traditional folklore. His Amazonian research was guided by Juan Carlos Galeano, an FSU professor of modern languages and linguistics, and Rebecca Galeano, an FSU assistant professor of teacher education.
"Many of my interactions with people throughout the Amazon reaffirmed my ambition to eventually work with economically disadvantaged communities on designing and developing structures that will better protect them from natural disasters," Roberts said.
Elsewhere in his service resumé, Roberts and two other FSU students co-founded The Big Event, a day for FSU students to perform community service throughout Tallahassee. The annual event has grown from about 500 students during its inaugural run in 2009 to about 1,500 students in 2011. Roberts also has volunteered with Big Brothers/Big Sisters while at Florida State.
In recognition of his leadership through service to others, Roberts was named the 2011 President's Undergraduate Humanitarian of the Year for FSU and received one of six Florida State University Profiles of Service Awards for 2011. The distinction, sponsored by the FSU Division of Student Affairs and the Center for Leadership and Civic Education, is given to students who demonstrate an exemplary commitment to community service at local, national or international levels.
"Graced with a calm, focused, humble demeanor, Chris is a brilliant man with the resilient strength to fight poverty in our communities," said Laura Osteen, director of the Center for Leadership and Civic Education. "His creative strategies in this fight have increased the involvement of students across campus, created new campuswide programs, and built bridges between the campus and local community."
After he earns his bachelor's degree this spring, Roberts plans on pursuing a master's degree in structural engineering. He also plans to remain involved with Habitat for Humanity.
---
Produced by the offices of Information Technology Services, the Provost, Student Affairs, Undergraduate Studies and University Communications.