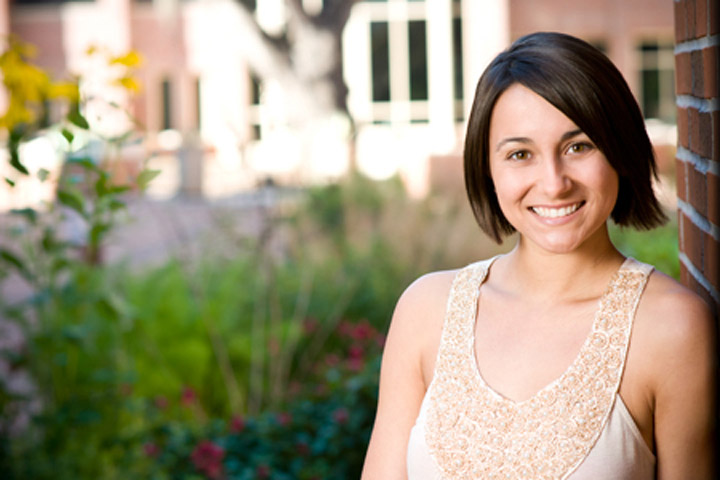 "My participation as a service scholar has emphasized the role of service in my life and that priority has shifted my academic, social and personal endeavors."
As an incoming Florida State University freshman, Caitlin Strawder thought she had her life mapped out, envisioning a career as a city manager. The week before fall classes began in 2009, however, she attended a Service Leadership Seminar that introduced her to a wealth of individual, group and community service opportunities that had greater potential to change the lives others as well as her own.
"That experience helped me to step out of predetermined confines and do something bigger," Strawder said. "It helped me begin to connect my level of commitment as a Florida State student and Tallahassee resident to my level of service and engagement to the campus and community."
Strawder soon became involved in the university's Service Scholars Program, a four-year program of the Center for Leadership and Social Change that prepares students to become leaders on campus and active, engaged citizens after graduation. She has served the program in several roles, including her current term as vice chair.
"My participation as a service scholar has emphasized the role of service in my life, and that priority has shifted my academic, social and personal endeavors," she said. "This integration of service in my daily thoughts and habits helped me realize what change is, and that I can be a part of it."
Strawder's involvement on campus is far-reaching. She has been active in the university's Without Words program, serving in 2011 as issue chair for the topic of immigration and in 2012 as an executive board member. Elsewhere, she has worked as a mentor, program volunteer and workshop director for PeaceJam Southeast, the regional extension of the international education program built around Nobel Peace Prize laureates who personally encourage young people to change the world for the better.
Strawder currently serves on the board of Advocates for Immigrant and Refugee Rights, an organization that works to promote the civil and human rights of immigrants and refugees in the United States. She works to promote these same goals through her current internship at Catholic Charities, where her duties include working with the legal aspects of immigration and asylum processes, translating documents, and teaching English and citizenship classes.
Strawder's focus on teaching English is reflected in her work with international students as a tutor of the English Conversation Club, a group that meets daily to practice English.
"Caitlin is loved and respected by our English Conversation Club participants, many of whom are Ph.D. students, research scholars and faculty," said Aleks Nesic of Florida State's Center for Global Engagement. "She has been asked to return and tutor for four semesters now. Every time I walk by the lounge where students gather to practice English, I witness how Caitlin inspires, motivates and helps them practice and improve skills critically needed for their academic success. I hear discussions about world poverty, health issues, multiculturalism, global climate and a true intercultural dialogue."
This past summer, Strawder spent two months in El Salvador teaching English at a language school run by a non-governmental organization that advocates for social justice. Strawder framed her lessons around controversial social issues to give her students a forum for discussion while they learned. She calls the trip "transformative" because it bridged her academic interest in human rights with her passion for teaching English.
"These discussions helped my students practice their English while reflecting on their personal experiences," Strawder said. "They taught me a great deal about the difficulties of growing and thriving in a nation torn by the still-present aftershocks of a brutal civil war."
In recognition of her leadership through service to others, Strawder received one of seven Florida State University Profiles of Service Awards for 2012. The distinction, sponsored by the Division of Student Affairs and the Center for Leadership and Social Change, is given to students who demonstrate an exemplary commitment to community service at local, national or international levels.
What's more, Strawder was among 18 students named to the inaugural class of Social Science Scholars for the spring 2012 semester. The College of Social Sciences and Public Policy selected her for the distinction because of her service and leadership involvement on campus as they related to her studies.
"I had studied immigration policy and human rights, and I had tactile and meaningful experiences with these issues in my service work," she said. "I believe that this perspective was important to the essence of the Social Science Scholars Program."
In addition, Strawder received the Department of Political Science's Charles Billings Public Service Award in spring 2012 on the basis of her outstanding academic performance and her focus on community service as it relates to her political science coursework. She also received the 2012 Ben Rosenbloom Memorial Service Scholarship offered by the Center for Leadership and Social Change.
After graduation, Strawder hopes to pursue a career in public service by working for the U.S. Department of State in the Foreign Service or the Bureau of Democracy, Human Rights and Labor, or as a lawyer focusing on human rights.
---
Produced by the offices of Information Technology Services, the Provost, Student Affairs, Undergraduate Studies and University Communications.