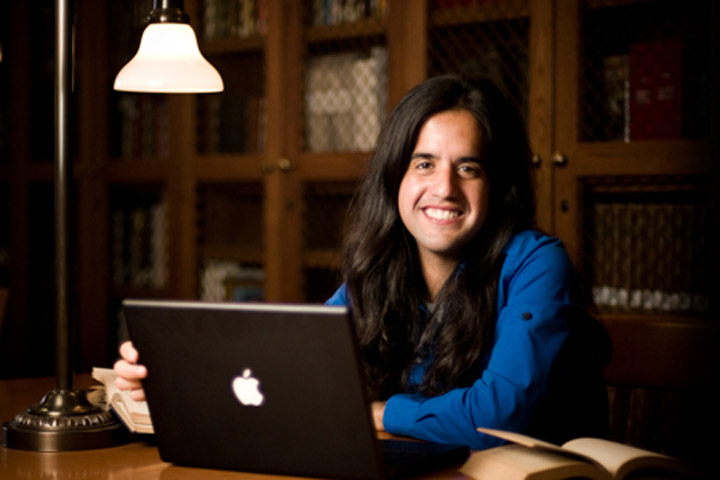 "Living abroad in Israel was a transformative experience in my life, in terms of my writing and my outlook on the world."
Poet and essayist Jacob Newberry chose to attend Florida State University based on the strength of the English department's nationally prominent Creative Writing Program. Since he arrived on campus, his growing reputation and talented writing — published and prize-winning — has helped to further elevate the program.
In 2011, Newberry, who is a doctoral student and University Fellow, won a prestigious Fulbright Fellowship, which allowed him to spend a year abroad studying and writing.
"Living abroad in Israel was a transformative experience in my life, in terms of my writing and my outlook on the world," Newberry said.
As a Fulbright scholar, Newberry lived in Jerusalem from August 2011 to June 2012, examining the pilgrimages that Christians from the American South make to the Holy Land.
"My goal was to document the act of pilgrimage and to elucidate its manifold inspirations and complexities," Newberry said. "It's necessarily difficult to categorize the motivations for pilgrimage of such a large group of people, but I can say that the primary, underlying motivation seems to be a search for spiritual catharsis."
The result of his study in Israel was the essay "What You Will Do," which won the 2012 Emerging Writer's Contest in Nonfiction from Ploughshares, one of this country's premier literary journals.
"This essay is my attempt to evoke the panic and claustrophobia that Jerusalem so often exudes," he said. "I wrote it in the second person, with the goal of implicating the reader in the inescapable anxiety that the city produces in anyone who is paying even the smallest amount of attention. The issues involved — religious and political — are vast and intractable. The essay is my attempt to wrestle with my pressing urge to 'do something' to help the situation, without having any idea what that might possibly be."
Before his year abroad, Newberry had work published in a number of highly regarded literary magazines, including The Iowa Review and TriQuarterly.
More recently, his poem "Outdoor Sermon on the Concrete Foundation of What Was the First Baptist Church of Gulfport, Mississippi" was published in the prestigious anthology Best New Poets 2011. Each year, the anthology publishes the work of 50 notable up-and-coming poets. Newberry's essay "Summer" — about issues related to being gay in Mississippi in the aftermath of Hurricane Katrina — was published in Granta, a leading international literary magazine. Another essay has been accepted for publication by the Kenyon Review.
What's more, Newberry has been awarded a Nonfiction Scholarship to attend the Bread Loaf Writers Conference in Vermont, the oldest and most prestigious writers conference in the nation.
Florida State English Associate Professor Erin Belieu, who is directing Newberry's dissertation, calls him a writer of great lyricism, moral astringency and dark humor.
"Jacob is a double threat in both prose and poetry," Belieu said. "It's such a pleasure to work with a young writer who has both great natural gifts and the work ethic necessary to achieving something truly indelible in his writing."
After graduation, Newberry plans on seeking a postdoctoral fellowship.
"I want to continue my creative work in poetry and nonfiction in a university setting so that I can show the next generation of writers the same encouragement and support that Florida State's creative writing faculty and students have shown me," Newberry said.
---
Produced by the offices of Information Technology Services, the Provost, Student Affairs, Undergraduate Studies and University Communications.