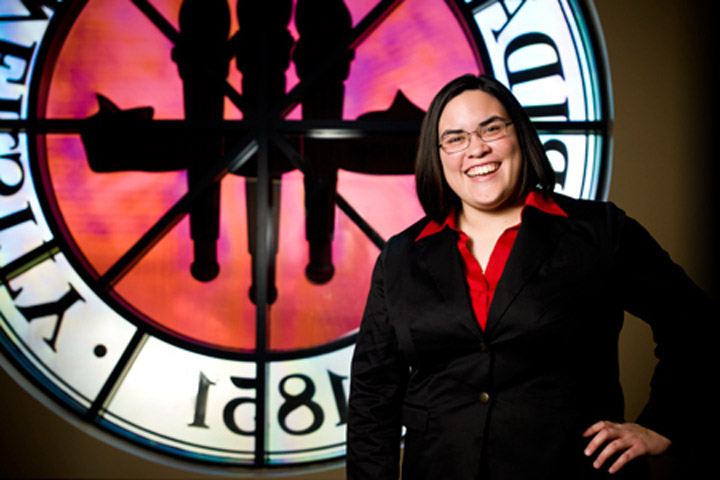 "Any student can change the world, not just after college but during college."
On Friday, April 27, senior Laura Kelly walked across the stage of the Tallahassee-Leon County Civic Center, shook President Eric J. Barron's hand and graduated from Florida State University with a 3.97 GPA. Her smile was radiant, her poise was perfect and her heart was full of awe-inspired humility. For Kelly, this was the bittersweet ending to an amazing chapter of her life, and the beginning of an even greater one.
Growing up in a military family, Kelly had moved around every three years. Though defining the word "home" was difficult at times for her, that all changed when she finally visited Florida State. A few weeks after her visit to the university, she received a handwritten letter from her tour guide offering some encouragement. It was at this moment of connection that Kelly realized FSU's dedication to community and tradition, sealing her decision to immediately accept her admittance to the university.
Having a near-perfect academic record, Kelly earned her undergraduate degree in English literature with a minor in religion. Words have always fascinated Kelly, which prompted her course of study.
"There is nothing more powerful than words," she said. "Studying how to craft words, read words and speak words was such an important privilege for me these past four years."
In speaking with Kelly, her passion for language is clearly evident. She describes the beauty of each experience she amassed at Florida State with an attitude of the sincerest appreciation.
Kelly boasts an incredible resume of involvement. Freshman Interest Group leader, Big Bend Homeless Coalition "Community Ambassador," Seminole Torchbearer, Omicron Delta Kappa leadership honors-society member, Fairview Middle School mentor, and the list goes on. Perhaps her most notable positions of involvement were serving as a resident assistant for University Housing and participating on the executive board for FSU Relay for Life, an annual fundraising event sponsored by the American Cancer Society that takes place at the university's Mike Long Track. In 2011, Kelly worked with the Wesley Foundation to raise more than $11,000 for Relay for Life, a staggering improvement from the $2,000 they raised in 2008.
Kelly's passion for leadership and service also led her to Florida State's Center for Leadership and Civic Education. There she developed a familial bond with the staff that challenged her to truly live life to the fullest.
"The leadership of the staff at the center taught me how to live a life that brings positive, sustainable change to the world," she said. "They really reaffirmed the idea of living a life of purpose."
Through her work with the center, Kelly earned a certificate in leadership through the center's interdisciplinary, multidimensional, and experiential leadership program. She also received the Florida State University Student Profiles of Service Award, an honor for students who demonstrate exemplary commitment to community service at local, national, or international levels.
"An incredible listener with a quick smile and infectious laugh, Laura pulls you in with her compassionate grace," said Laura Osteen, director of the Center for Leadership and Civic Education. "She has a genuine interest in understanding the world around her in order to create more peaceful, caring and just communities."
Now an alumna of Florida State, Kelly is in Alabama gearing up for her first year as a high-school English teacher through the Teach for America program. For Kelly, this is the beginning of a grand adventure.
"So long as I am finding myself in a place where I am around people who can become a part of my heart through service, I will be 100 percent satisfied with every day that I live," she said.
Mark Zeigler, an instructor in the Center for Leadership and Civic Education, also commented on Kelly's endeavors as a student and offered her praise as she transitions into her next chapter of life.
"Laura is selfless to a fault, finds the miraculous in the mundane and is inspiring to fellow students and faculty alike," he said. "Her development as a leader at FSU was fun to watch, and she will be a superstar for Teach for America."
Though Kelly has now left the university, her legacy has not.
"If I could leave a whisper of a legacy behind for this campus, it would be one of encouragement," Kelly said. "Any student can change the world, not just after college but during college."
---
Produced by the offices of Information Technology Services, the Provost, Student Affairs, Undergraduate Studies and University Communications.