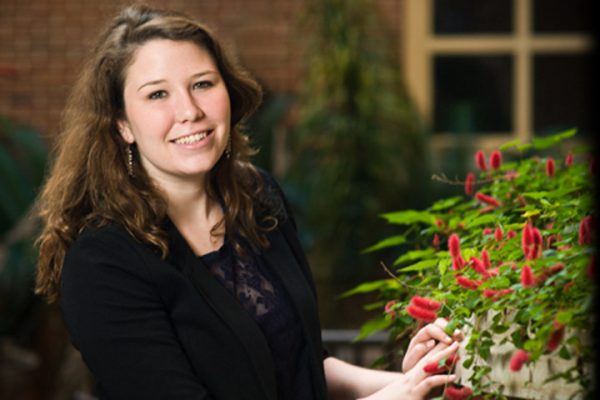 "I learned that it only takes a small idea to make a big difference."
Writers write, as the saying goes. As an English major, Emily Ann Ostermeyer has spent her undergraduate years at Florida State University honing her craft as a writer and journalist by writing and editing for two independent student publications, the Yeti and the FSView & Florida Flambeau.
"Writing for the Yeti was great because it was my first crack at journalism," Ostermeyer said. "It's where I learned the basics that helped me succeed at the FSView."
While she was writing for the Yeti, Ostermeyer got to work on one of the most compelling stories of the past three years — health care reform in America.
"My favorite article I wrote for the Yeti was about the health-care reform effort when it was first gaining momentum," Ostermeyer said. "I also loved covering protests at the (Florida) Capitol. It was great to get in the middle of the action, and exciting to talk to people that were so passionate about their causes."
After spending her freshman year writing for the Yeti, Ostermeyer rose to managing editor during the fall semester of her sophomore year before going to work as a writer for the university's campus newspaper, the FSView & Florida Flambeau. As a junior, Ostermeyer was promoted to managing editor of the FSView. She was named editor in chief at the start of her senior year.
"I spend about 28 hours every week working at the FSView, not only producing the paper but reaching out to student leaders to make sure they are aware of what a tremendous resource the FSView is to Florida State's registered student organizations," she said.
During her junior year, Ostermeyer realized that Florida State's student journalists had professional networking and development needs that were not being met. To help meet those needs, Ostermeyer and three other student journalists co-founded the Florida State chapter of the Society for Collegiate Journalists. Ostermeyer served as the chapter's first president.
"In establishing the chapter, I learned that it only takes a small idea to make a big difference," Ostermeyer said.
Since the chapter was established, Ostermeyer says she has been gratified in seeing it grow from its original group of four founding members to more than 30.
"It has been incredibly rewarding to see students take advantage of the professional development offered by the club," she said.
As a student in Florida State's Honors Program, Ostermeyer has been working on "The Anthology of Awkwardness," an Honors in the Major creative writing project under the direction of English Assistant Professor Ned Stuckey-French.
"Emily writes like a dream," said Stuckey-French, who describes Ostermeyer's essays as funny but important. "Her essays are full of dead-on dialogue, pop-off-the-page scenes, and honesty, honesty, honesty.
"Her honors thesis is a collection of essays about awkwardness — the Catch-22 of having to be in shape before you show up at the gym in clinging Lycra to get in shape, what kind of Dairy Queen Blizzard helps most when you've just thrown yourself at a guy and then found out he's into someone else, and what happens when you want to grow up and draw some boundaries but still be a Mama's girl," Stuckey-French said. "Emily is a real writer, and I'm honored to be her teacher."
After she graduates with a bachelor's degree in English, Ostermeyer plans on applying to graduate creative writing programs.
"My creative writing classes and professors at Florida State have been outstanding, and my writing experiences at the FSView have been invaluable," Ostermeyer said. "Whatever my future holds, learning how to write well has taught me to think on my feet and be a problem solver. My experiences at Florida State have given me that edge."
---
Produced by the offices of Information Technology Services, the Provost, Student Affairs, Undergraduate Studies and University Communications.