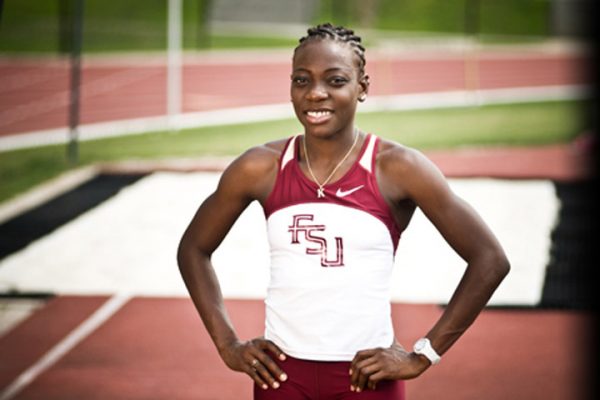 "Keep working hard, stay positive, be patient and continue to strive for excellence."
One look at the résumé of Florida State University graduate and Olympic athlete Kimberly Williams, and it's clear she's a classic "Renaissance woman."
A superior athlete who is personable as well as a stellar student, the 23-year-old Williams is also the most decorated women's track and field athlete in Florida State history.
Now she can add what is perhaps the biggest bragging point of all to her résumé: Olympic athlete.
In July, Williams qualified for the 2012 Olympics at the Jamaican National Senior Trials in Kingston with a leap of 14.52 meters, which matched her career best and garnered her a second national title in that country.
A four-time NCAA champion in the triple jump for the Seminoles, Williams graduated cum laude in April from Florida State with a degree in sports management — her favorite class being sports law. She will represent Jamaica in the Olympic Games.
"It's definitely an honor and a privilege," Williams said in an email interview that she juggled in mid-July while traveling from Jamaica to London for the Aviva London Grand Prix meet. "Many athletes dream about going to the Olympics, but only a selected few are able to make it a reality. I'm very thankful that my country selected me, and I'm hoping to go to the games and make my family and my country proud."
Williams grew up in Danvers Pen, St. Thomas, an agricultural parish on the eastern side of Jamaica known for its cattle ranching and sugar and coffee production. An only child, she spent her childhood amid a mob of male cousins — a blessing for a girl who loved sports and describes herself as a "tomboy."
Williams' mother, Angella Diego, ran track and was a respected amateur sprinter in Jamaica. Williams always thought she would follow the same path, but when she got to Vere Technical High School in Hayes, Clarendon, Jamaica — a school known for producing great runners — she was introduced to the long jump and the triple jump by her coach.
"I immediately fell in love with both field events," Williams recalled.
Her dream of taking her athletic talent to great heights was always with her — even as a student at Florida State. Williams works out six days a week for three to five hours, which includes weight training and treatment.
"One of my dreams as a child was to make an Olympic team, and I've accomplished that dream," said Williams.
While a student at Florida State, Williams was part of the Student Athlete Advisory Council and was involved in a great deal of community service with her teammates.
Williams praised all of the coaches with whom she has worked so far, including Coach Jackie Richards, who recruited her to Florida State, and her personal coach, Dennis Nobles.
"They definitely played an important part in my development," she said.
Williams offered advice to aspiring student athletes dreaming of the 2016 Olympics.
"Keep working hard, stay positive, be patient and continue to strive for excellence," she said. "Things won't happen overnight and in order to see specific results you have to put in the work."
---
Produced by the offices of Information Technology Services, the Provost, Student Affairs, Undergraduate Studies and University Communications.