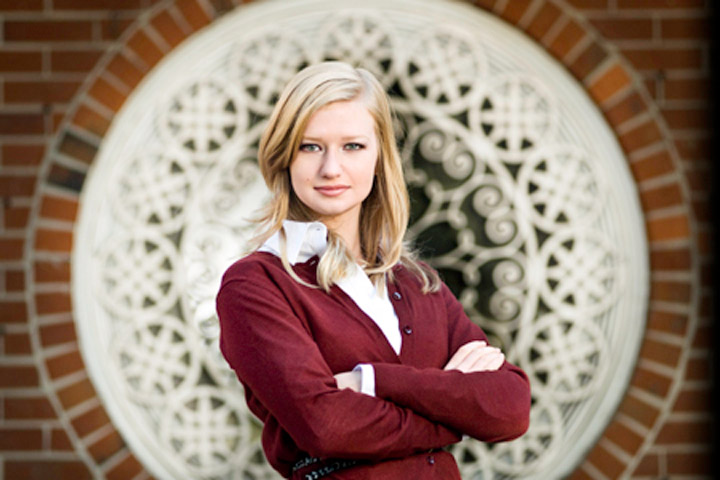 "The sense of community I've experienced here is one of the things that makes Florida State so special."
Poetic justice is a term that commonly refers to appropriate retribution but it also encapsulates the sentiments that led senior Jessica Jelks to double major in creative writing and criminology. With her passion for poetry and desire for justice, Jelks' caring nature also motivated her to become a campus leader.
Even as a young girl Jelks enjoyed the poetry read to her by her grandmother, a former English professor at Emory University. At Florida State, a poetry class taken to fulfill an English requirement led Jelks to follow the passion her grandmother instilled in her by majoring in creative writing.
Jelks' interest in criminology, meanwhile, grew from a desire to better understand the nation's high incarceration rates. FSU faculty in the College of Criminology and Criminal Justice — among the top-ranked criminology schools in the U.S. — then nurtured Jelks' initial curiosity.
Professor Bill Bales helped Jelks fine-tune the directed individual study she did last fall on the effectiveness of prison-employment and work-release programs in reducing recidivism, or the rate of repeat offenders.
"Dr. Bales really elevated my understanding of how the field of criminology can bring informed improvements to some of these existing prison programs," said Jelks.
The implication of gender on rehabilitation efforts is another area of criminology that interests Jelks. Although female prison populations are growing, most criminal justice studies remain focused on male inmates.
"Jessica is one of the most talented, hardworking and altogether serious students I have had the pleasure to work with throughout my 39-year career as a professor," said Dean Tom Blomberg, who is also Florida State's Sheldon L. Messinger Professor of Criminology. "She readily grasps theoretical issues and values the importance of research in informing public policy."
This fall, Jelks will be one of six student leaders in a new undergraduate research program. These leaders will mentor a class of 25 students taking their first steps toward conducting undergraduate research within their fields of study.
Outside the classroom, Jelks is president of the Disability Student Union, which works with the Student Disability Resource Center to make FSU a more disability-friendly environment.
DSU projects this year include Disability Awareness Week, which is traditionally a one-day event but was expanded to a week this October to commemorate FSU's forty years of service to students with disabilities. In leading the DSU, Jelks, who is challenged by a modest learning disability, hopes to provide students with disabilities with a greater sense of community.
"The sense of community I've experienced here is one of the things that makes Florida State so special," said Jelks. "And I want all of our students to benefit from that same welcoming atmosphere."
After graduating, Jelks plans to continue her criminology studies at the graduate level and pursue a career in public policy or education.
---
Produced by the offices of Information Technology Services, the Provost, Student Affairs, Undergraduate Studies and University Communications.