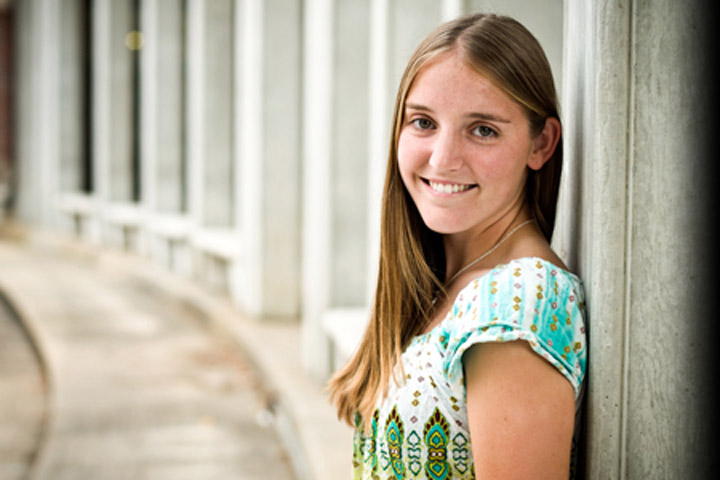 "The classics professors have fostered a huge sense of community."
When both your parents are Florida State alumni, there sometimes isn't much doubt where you'll be attending college. Senior Melanie Godsey is among those who "was born and raised a Seminole," and she also knew she wanted to join the Marching Chiefs once she got here.
A flute player, Godsey was selected for the Chiefs in her freshman year. By year two she was a row leader and went on to become a section leader two seasons after that.
"When I joined the Chiefs it was as if I had immediately gained 450 new friends since the camaraderie was so incredibly strong," Godsey said.
In the classroom, Godsey is pursuing dual degrees in classical archaeology/history and Latin/art history. These demanding courses of study integrate Godsey's longtime fascination with history with Florida State's renowned classics department.
"I expected to be intimidated by the stature of my professors," Godsey said, "but each one of them has been completely welcoming."
The summer after her freshman year, Godsey traveled with the classics department to Cetamura, Italy, to gain field experience at an archaeological dig site.
During her sophomore year, the Palm Beach Gardens native studied Latin elegy with professor Laurel Fulkerson. This coming year, Godsey will work on her honors thesis, which concerns the Hellenistic period and must be defended next spring.
In addition to her studies, Godsey is currently president of Eta Sigma Phi, the Latin and Greek honor society. Her goal as president is to raise campus awareness of the international distinction the classics department has achieved.
"Classics is a program with an amazingly prestigious faculty," Godsey said. "The professors have fostered a huge sense of community through their willingness to work with students outside the classroom."
This sense of community is what also inspired Godsey to pursue a doctorate in Hellenistic archaeology and an eventual career in higher education.
---
Produced by the offices of Information Technology Services, the Provost, Student Affairs, Undergraduate Studies and University Communications.