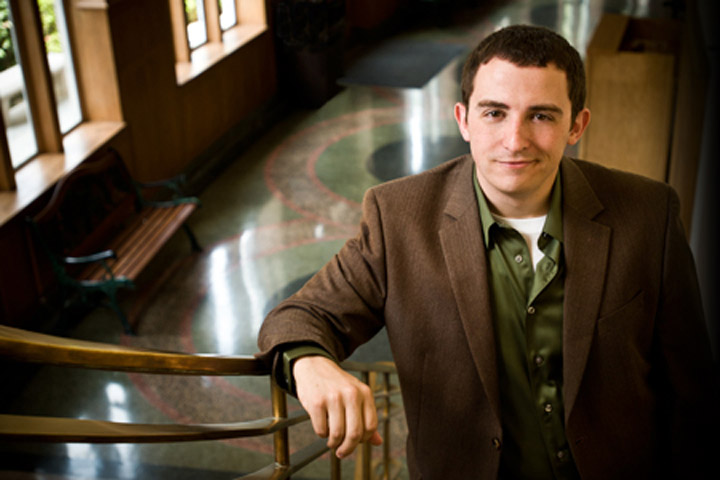 "FSU provided me with the full range of professional experiences to develop my research, teaching and service."
Peter Kunze grew up in a suburban, working class family in Deptford, N.J., close to Philadelphia — an area he loves and still jokingly refers to as "the right side" of the Garden State. His father, a Vietnam veteran, works as a postal carrier; his mother as a daycare provider.
Kunze's family always prized education. As a boy, his weekly trips to the library yielded armfuls of books, a habit he often explained away as a technique to keep literary "variety" in his life.
"I give a book 30 pages. If I'm not hooked after that, I let it go — there are too many good books in the world, " he said of the rule he still applies to pleasure reading.
As the first person in his family to earn a college degree, Kunze, who graduates from Florida State University in August with a doctorate in English, has not only made his parents proud — he's far exceeded their expectations.
Kunze already holds two bachelor's degrees as well as a master's degree. His background is in English, communications, and radio/TV and film studies.
"Literature is my specialty," said Kunze, 27, who has worked as a teaching assistant in the Florida State's Department of English. His classes have ranged from American Women's Humor to Hollywood Cinema to Children's Literature.
Teaching is Kunze's gift and passion. It is a goal he has nurtured since he was an undergraduate when he thought he might like to teach at the high school level. His literary gifts had been recognized from the time he was in high school. But it was as an undergraduate that he really shined.
"I was outspoken in class," he recalled. "My professors always told me that I should go do graduate work."
As a teaching assistant in the Department of English, Kunze said he had the pleasure of working with hundreds of undergraduates in his composition, literature and film courses. He thinks of them not only as students, but as friends.
Kunze was drawn to Florida State six years ago, partly on the advice of a friend who lived in Tallahassee and partly because of the fine reputation of the Department of English. Since then, he's become deeply involved in the Tallahassee community as well as at Florida State: He's served as assistant director of Men Advocating Responsible Conduct, a group that lobbies against sexism and homophobia, and as a mentor for Big Brothers and Big Sisters of the Big Bend.
Within the Department of English, he's served on graduate committees as well as represented graduate student interests on faculty committees. He was recently awarded the Florida State Graduate Student Service Award as well as the Bertram and Ruth Davis Award for Outstanding Graduate Student Career.
His essays and writings have appeared in numerous literary collections and journals and he is currently co-editing a special issue of "Studies in American Humor" devoted to Kurt Vonnegut's role in American humor.
"FSU provided me with the full range of professional experiences to develop my research, teaching and service," Kunze said. "Over the past six years, I have not only earned two graduate degrees, I have fine tuned my critical thinking and writing, met lifelong friends and peers, and interacted with some of the finest scholars in the humanities."
---
Produced by the offices of Information Technology Services, the Provost, Student Affairs, Undergraduate Studies and University Communications.