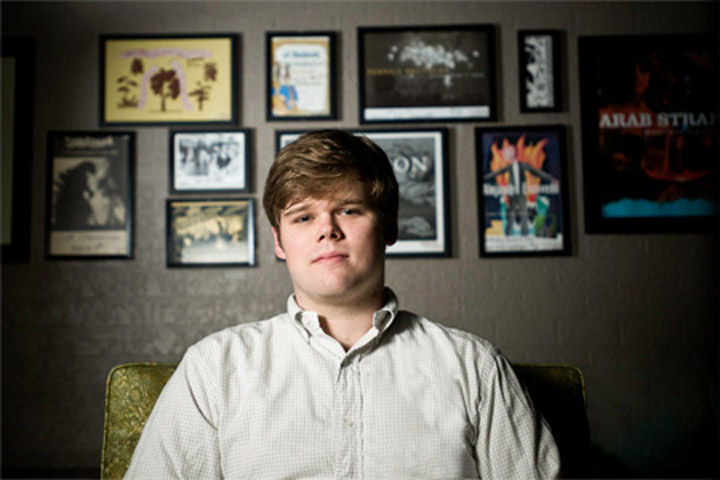 "I think what I like most of all, though, is being at the show and seeing how excited people are and knowing that I was largely responsible for it."
Just call him "Mr. Entertainment."
For the past two years, senior Zachary Harris has been responsible for booking musical acts into the Club Downunder, a nightclub in Florida State University's Oglesby Student Union. During that time, he has brought hundreds of artists to campus, including Iron and Wine, Matt and Kim, and Of Montreal.
"I started out knowing very little about how booking works, but now I feel confident in my abilities as a talent buyer," Harris said. "I've learned to foster and maintain the relationships with agents and agencies that other students in this position previously built over the years."
As the talent buyer and one of four club managers for Union Productions, Harris is expected to book a diverse group of artists throughout the year, and to try to get less-costly artists who are on their way up.
"I've become great at negotiating with agents as well as dealing with tour managers," he said.
Harris, a philosophy major, started his foray into producing shows by volunteering with the hospitality arm of Union Productions as a freshman. Along with a small group of fellow students, Harris was responsible for stocking dressing rooms with food for incoming bands.
"Zachary quickly became known as a strong member of our volunteer staff, learning the basics of both hospitality work and venue staffing," said Adam Gismondi, assistant director of Student Activities for the Oglesby Student Union.
As a sophomore, Harris was promoted to hospitality coordinator, and was put in charge of one other paid staff member and six student volunteers.
"Even from his first days working at Club Downunder, Zachary exhibited a maturity beyond his years," Gismondi said. "His inherent knack for working with others and natural leadership skills allowed him to rise quickly into his current position, as our venue's talent buyer."
In a given year, the dozens of free Union Productions concerts attract a combined attendance of more than 40,000 people. While Harris has worked as Union Production's talent buyer, a large part of that number has come from concerts that he has booked.
While his philosophy major might not directly relate to booking musical acts, Harris says that the analytical and communication skills that he learned in his philosophy classes have helped him greatly in his work.
Whether he is booking small shows or the end-of-summer Last Call Before Fall concert, Harris derives a great deal of satisfaction from his work.
"I really enjoy trying to negotiate with agents to get the best deal possible," Harris said. "I think what I like most of all, though, is being at the show and seeing how excited people are and knowing that I was largely responsible for it."
Eventually, Harris hopes to get a job within the music industry. Over the summer, he will serve an internship at the Windish Agency in Chicago and, in the fall, will begin work on his master's degree in the Arts, Entertainment and Media Management program at Columbia College Chicago.
"Ideally, I'd like to be a booking agent within the next five years," he said.
---
Produced by the offices of Information Technology Services, the Provost, Student Affairs, Undergraduate Studies and University Communications.