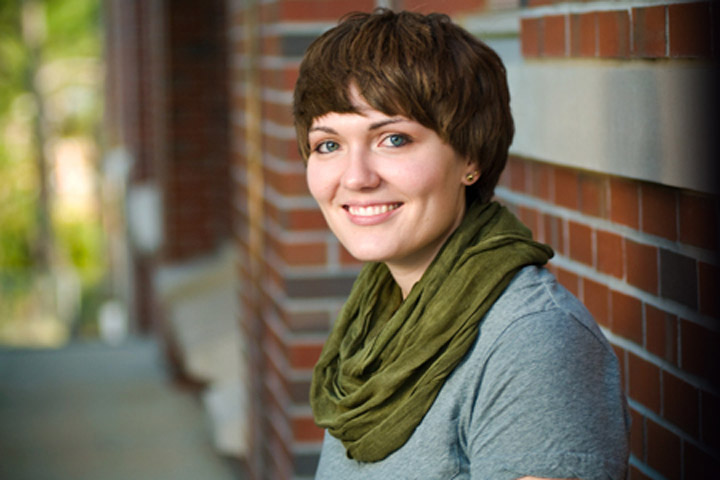 "I am especially interested in the brain's overlapping neural, perceptual and cognitive bases of music and language."
Dana Boebinger intended to enroll in Florida State University's College of Music to become a music therapist — a health professional who uses music to address a patient's physical, emotional, cognitive or social needs. But like many naturally inquisitive students, once she arrived on campus, her thirst for learning compelled her to change her plans.
After adding a second major, psychology, Boebinger began taking classes that excited her about conducting empirical research, particularly in the area of neuroscience — a branch of the life sciences that deals with the study of nerves and nervous tissue, and their relation to behavior and learning.
"I took two classes — 'Psychology of Music' and 'Behavior Modification in Music' — that consumed a great deal of my thought and seemed to apply very broadly to everything around me," Boebinger said. "Music Professor Cliff Madsen taught both classes and became a mentor to me. He saw potential in me, allowed me to assist him with research projects, and encouraged me to take graduate-level courses."
As a sophomore, Boebinger received one of Florida State's Mentored Research and Creative Endeavor Awards, which supported her research into the co-localization of nicotine and dopamine receptors in the zebra finch brain with Susanne Cappendijk, an assistant professor in the College of Medicine. As a senior, she learned how to conduct electrophysiological experiments with people and analyze brainwave data in the clinical psychology lab of Edward Bernat, an associate professor of psychology.
"I've been lucky to have had the opportunity to conduct research in several different fields while at Florida State University," Boebinger said. "It has given me an appreciation for the importance of approaching research questions from multiple levels of observation and with multiple methodologies."
As a junior, Boebinger began researching how people learn language by investigating how they learn about the structure of both language and music. Her research, supported by one of Florida State's Bess H. Ward Honors Thesis Awards, was supervised by Michael Kaschak, an associate professor in the Department of Psychology. The research was the basis for an honors thesis.
Using two invented languages, so-called "artificial grammars" — one consisting of nonsensical syllables and the other of non-Western musical chords — Boebinger set out to discover whether a single ability governs the way people learn language and music.
"First, I had my research participants listen to several grammatically correct 'sentences' generated from both of these made-up languages," Boebinger said. "Then, I tested the participants by having them listen to additional 'sentences.' Some were grammatical and some were not. The participants had to decide which ones sounded correct based on what they had initially heard."
Boebinger successfully defended her research, "Are Implicit Learning Abilities in Language and Music Related?" in January of 2012. In addition, she presented her thesis twice more this spring — at Florida State's Undergraduate Research Symposium and at the Atlantic Coast Conference's annual Meeting of the Minds.
"Dana is an extraordinarily talented student," Kaschak said. "She shows both the creative flair needed to synthesize ideas from different areas of research, and the attention to detail needed to pursue scientific research on the highest level. The success of her thesis project is a testament to her growing skills as a researcher."
After she graduates this spring, Boebinger will spend the summer working as a research assistant in an auditory cognitive neuroscience lab in Montreal, Canada, designing tasks to test the auditory and musical perception abilities of preschool aged children. From there, she will travel to England as a 2012-2013 Fulbright Scholar to complete a one-year Master of Science program in cognitive neuroscience at University College London.
Boebinger plans on pursuing a doctorate in cognitive psychology to study how the human brain processes complex sounds, such as language and music. Afterward, she intends on becoming a professor to conduct further research on the brain's overlapping neural, perceptual and cognitive bases of music and language.
---
Produced by the offices of Information Technology Services, the Provost, Student Affairs, Undergraduate Studies and University Communications.