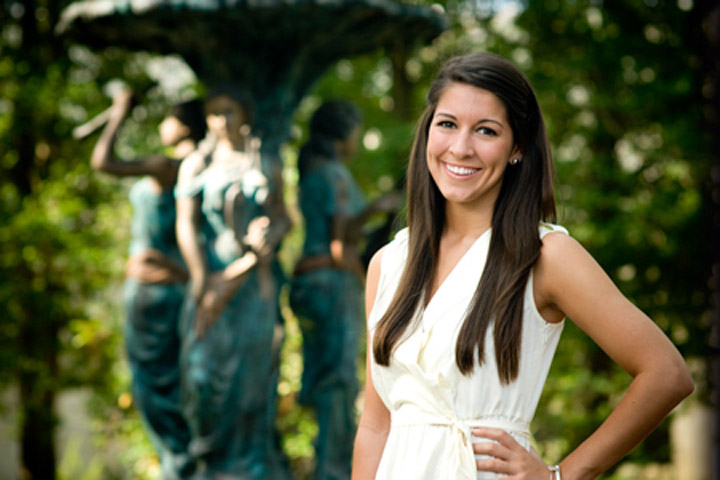 "By far, the most important experiences I have had at FSU are the ones where I have had a direct influence on a fellow student's life."
Senior Alyssa Smathers has always excelled as a leader, but attending Florida State University has provided her with invaluable opportunities to get involved and further develop her skills as a world-changer. Through a number of different programs on campus, Smathers has maximized her self-potential and realized her desire to pursue a career that will positively affect the lives of others.
Smathers was born and raised in Pace, Fla. Choosing to attend FSU was a big decision for her, as she was the first in her family to leave home for college. However, from the moment she set foot on campus, Smathers knew Florida State would be her new home away from home.
"There was no better alternative in any measure," Smathers said. "The opportunities for me at Florida State were and continue to be endless."
During her freshman year, Smathers joined the Chi Omega sorority, which served as a platform for her to build new friendships and get involved on campus. From there Smathers found further service opportunities, gaining experience as a resident assistant, an orientation leader and as a counselor with the Center for Academic Retention and Enhancement. Furthermore, she has served as a Dance Marathon morale captain, as the SGA Senior Class Council secretary, and as vice president of the Florida State chapter of Omicron Delta Kappa national leadership honors society.
Through these experiences, Smathers has come to recognize the importance of reaching out to others and building relationships — and how these fundamental things can sometimes be overlooked.
"By far, the most important experiences I have had at FSU are the ones where I have had a direct influence on a fellow student's life," she said. "It is not always about how much money a philanthropy raised or the turnout at a function, it is about the times when I have made a positive change in a student's life by empowering him or her to carry forward the legacy."
Susannah Shiner, one of Smathers' orientation leader supervisors, describes Smathers' passion and love for Florida State as "contagious."
"Her drive to leave a legacy at FSU and initiate change is inspiring to those around her," Shiner said. "During orientation, Alyssa was able to effectively relate to the students she worked with and personalize their transition experience."
Perhaps one of her most impressive qualities is her ability to balance extracurricular activities with academics. Smathers, a student in the College of Business, is majoring in both human resource management and management, as well as earning a certificate in Leadership Studies, all while maintaining an impressive GPA of 3.81 and regularly appearing on the Dean's List.
Upon graduating, she will be joining the Teach For America Corps of Dallas/Fort Worth, Texas. Through this program she hopes to eventually attend graduate school and earn a master's degree in higher education/student affairs.
"My aspiration is to pay it forward and take all the amazing experiences and lessons this university has provided me with and give them back to students throughout my entire career," she said.
---
Produced by the offices of Information Technology Services, the Provost, Student Affairs, Undergraduate Studies and University Communications.