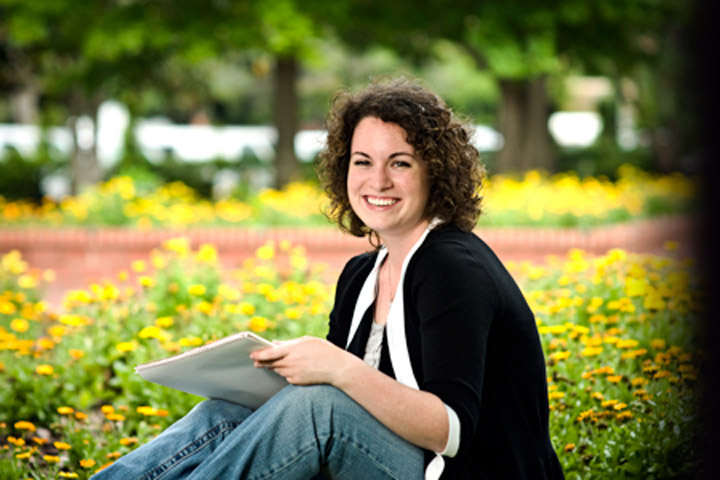 "I want to try to keep a kind of fascination with life in whatever I do."
Describing senior Lauren Fontaine as "creative" might be a bit of an understatement. In the course of earning dual degrees in creative writing and studio art, the Springfield, Ill., native has amassed an impressive portfolio during her time at Florida State University.
Initially drawn to Florida State for its exceptional creative writing program, Fontaine soon recognized that the campus itself provided her with valuable inspiration for both her art and writing.
"Anywhere you turn on campus has potential for a still-life sketch," she said.
Student diversity at FSU has also provided Fontaine with inspiration, and occasionally members of the campus community generate characters that appear in her writings.
"Sometimes just meeting someone for even a brief time can provoke ideas that are then incorporated into my stories," she said.
In the course of her four years at Florida State — during which she maintained a 3.86 GPA and made the President's List twice — Fontaine says classroom interactions also helped hone her artistic style. She cites art professor Mary Stewart's classes, with their open discussions, debates and challenging of ideas, as being especially stimulating.
In addition to being a standout student, this creative young woman has also given back to the campus community.
A majority of Fontaine's service has been through her volunteer work at University Lutheran Church. In addition to being a peer minister, Fontaine has organized blood drives, coordinated a Relay For Life team, and led Bible studies at the church.
Fontaine has also taken advantage of other opportunities available to Florida State students, including Citizen's Police Academy training with the FSU Police Department. Moreover, she has been a research assistant in the art department, and for fun Fontaine joined the FSU Swing Dance Club, something she now says she wishes she had done much sooner.
In recognition of her dedication to her studies, artistic development and community service, the College of Visual Arts, Theatre and Dance named Fontaine its 2011 Humanitarian of the Year.
After graduation this spring, Fontaine plans to pursue a career as a writer and storyboard artist, hopefully for Disney or, better yet, Pixar. Regardless of her career path, she intends to maintain her sense of joy and optimism.
"I want to try to keep a kind of fascination with life in whatever I do," she said.
---
Produced by the offices of Information Technology Services, the Provost, Student Affairs, Undergraduate Studies and University Communications.