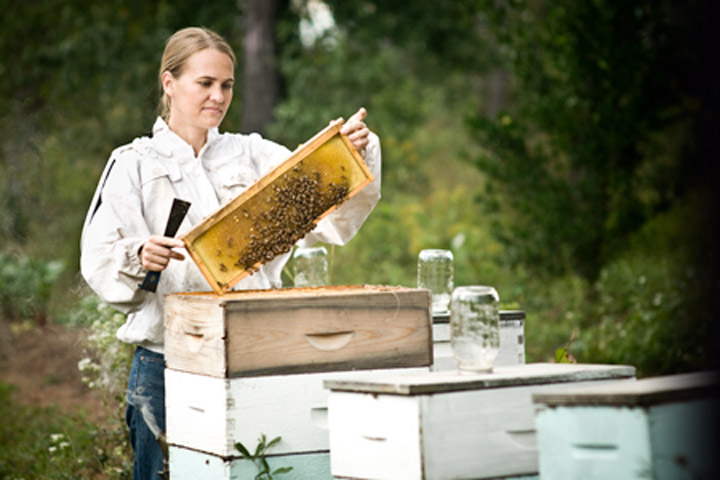 "While in Mexico, I was confronted with the reality of how complex forest dynamics are in this region."
With an eye toward a career in ecology and land management, Florida State University geography doctoral student Heather Gamper is studying Mexico's tropical montane cloud forests, an environment that is constantly shrouded by a layer of clouds. It is one of the planet's most beautiful and rare ecosystems, with an incredibly diverse population of plants and animals.
"In my research, I study forest dynamics using Geographic Information Systems, mapping, spatial statistical analysis, dendrochronological or tree-ring analysis, and other basic ecological studies," Gamper said. "I also study forest conservation efforts through the promotion of forest honey as a non-timber forest product."
Mexico's tropical montane cloud forests are a long way from Tallahassee. Gamper was able to travel to the high-elevation forests of Veracruz, Mexico, to conduct field research for her doctoral dissertation as a 2008 and a 2009 recipient of the Florida State International Dissertation Research Fellowship. After she was on the ground in Mexico, she investigated how fragmentation of the forest alters its dynamics, and focused on conservation strategies such as producing honey rather than cutting timber.
"While in Mexico, I was confronted with the reality of how complex forest dynamics are in this region," Gamper said. "From a landscape and ecosystem perspective, much of this complexity arises due to the influence of human land-use leading to forest loss and forest fragmentation."
In addition to the geographical characteristics of the forest, Gamper has studied some of its biological characteristics. Using her doctoral dissertation research as a basis, she co-wrote a paper on the ways that birds use scale insect honeydew in tropical montane cloud forests, published in the Journal of Tropical Ecology. She co-wrote another paper on the ways that the forest structure can modify the distribution of a scale insect known as Stigmacoccus garmilleri, published in the Journal of Insect Science.
"Forest fragmentation in this region has altered the balance of a fragile plant-insect interaction," Gamper said. "Scale insects, which feed on tree phloem, were historically maintained in continuous forest at low densities by the lack of sunlight exposure in dense expanses of forest. However the current level of forest fragmentation has led to a prolific expansion of scale insects on sun lit forest edges. Higher densities of scale insects pose a threat to the health of existing established trees as well as young trees regenerating on the forest edge. It is important for us to understand how our land management decisions can affect fragile biotic interactions and shape the pattern of our future landscape."
In 2006, Gamper worked closely with Florida State biological science Professor Walter Tschinkel as a teaching assistant for an insect biology class. Tschinkel identified Gamper as having strength in interdisciplinary research and supported her decision to switch her studies from the Department of Biological Science to the Department of Geography. By switching departments, Gamper would be able to perform research that was more closely aligned with her interests while still maintaining research collaborations within the Biology department.
"Heather is a real original, a woman with a poetic streak and great intellectual ability who has pursued her passion independently," Tschinkel said.
In recognition of her outstanding interdisciplinary research within geography and biology, Gamper was the recipient of one of Florida State's 2011 Graduate Research and Creativity Awards.
Beyond the classroom, Gamper has taken her interest in the ecological ramifications of honey production to a new level as a member of the Apalachee Beekeeping Association of Leon County, Fla. Since joining in 2007, Gamper has not only learned a great deal about beekeeping but also has participated in numerous outreach activities to educate the general public about honeybees and agriculture. She is the current president of the association.
After graduation, she expects to continue teaching and conducting interdisciplinary research. Gamper is interested in pursuing this within an academic, government or private setting.
"I particularly enjoy using tools such as Geographic Information Systems and satellite imagery to answer questions about spatial ecology and make land management decisions based on sound science," Gamper said.
"Being able to structure my graduate career in an interdisciplinary fashion has allowed me to value what I have learned to a higher degree. I am very thankful to FSU for providing me the environment to do so," she said.
---
Produced by the offices of Information Technology Services, the Provost, Student Affairs, Undergraduate Studies and University Communications.