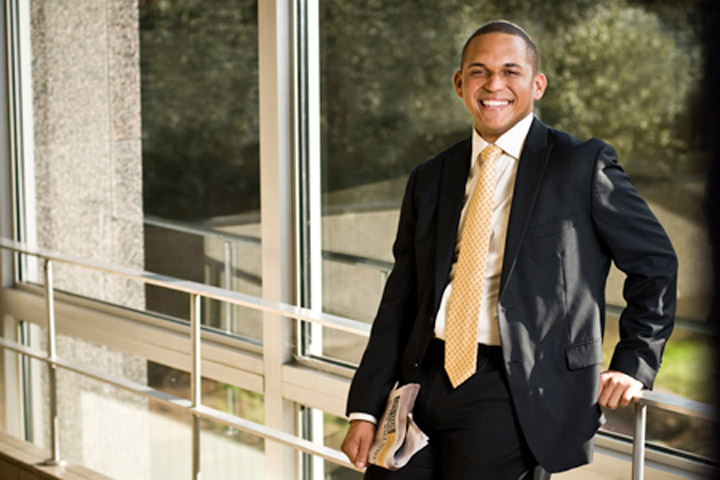 "For students like me with a passion for business, Florida State offers a unique entrepreneurial environment and a 'sky is the limit' culture that encourages self-starters."
"For students like me with a passion for business, Florida State University offers a unique entrepreneurial environment and a 'sky is the limit' culture that encourages self-starters," said senior finance and economics major Orlando Remak. "As long as a student has a great idea, a couple of friends and a plan, he can create his own organization and grow it on campus, whether it is a start-up business or a club."
With Florida State as an incubator, Remak's investment in his future has already been a profitable one.
For his scholarly contributions and academic excellence in the most challenging finance-major coursework, Remak has earned both the Karl and Sophie Schweizer Award and the Finance Student Service Scholarship.
As a student in the FSU Honors Program, Remak pursued his global business interests by completing an honors thesis that took him to Hong Kong, where he performed a cross-cultural risk-aversion study comparing American and Chinese citizens. There, he surveyed more than 200 students — thanks in part to funding he received as a recipient of Florida State's Bess H. Ward Honors Thesis Award.
In addition, the Orlando, Fla., native and longtime Dean's List resident was selected as a participant in Florida State's $1.5 million Student Investment Fund, for which he analyzed different markets and presented solid investment ideas.
The Student Investment Fund experience — typically reserved for graduate students — should prove valuable to Remak following his 2012 graduation. He has accepted a job in New York City as an investment-banking analyst at Credit Suisse, one of the top-performing investment banks worldwide.
Remak's global aspirations are focused on "impact investing."
"One day, I'd like to manage a fund that invests in social entrepreneurs in developing countries that need smart foreign capital," he said.
"As an 'impact investor,' I would travel to regions in Africa, Central America and Asia to make a difference in the lives of people who, despite scarce resources, possess the 'sky is the limit' personality that I've found in FSU students who pursue their business ideas and make them prosper."
Meanwhile, Remak has made a difference closer to home. He took the reins as chairman of the College of Business Student Leadership Council, where he developed Florida State's national undergraduate case competition team. He also volunteered his time to make a difference in a number of smaller student-run organizations.
"One of FSU's many strengths is that wonderful resources are made available to students who seek them out and run with them," Remak said. "I've appreciated and tried to take full advantage of this aspect of our university's culture, and I will carry it with me when I graduate."
He'll also carry the prize that he and his team of three other Florida State business students won in the 2012 "Georgetown McDonough-Hilltop Business Strategy Challenge." The international case competition asks collegiate contestants from the United States, Canada, Ireland and China to devise creative solutions for a nonprofit business and compete on the basis of presentation, clarity, vision and feasibility.
"Our case involved Washington, D.C.-based 'Street Sense,' which was faced with an unsustainable business model," Remak said. "We were asked to develop a strategy for raising revenue without growing staff, and while keeping intact the core mission, which is to end homelessness in D.C."
His team's winning strategy must remain top-secret — sharing it would reveal too much sensitive information about the company involved.
Suffice it to say that Remak and his Florida State teammates successfully aimed for the sky.
---
Produced by the offices of Information Technology Services, the Provost, Student Affairs, Undergraduate Studies and University Communications.