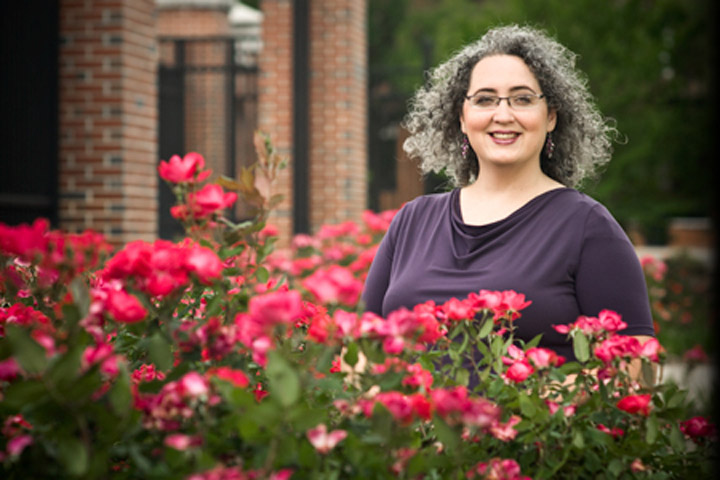 "By contributing to the understanding and treatment of psychological trauma, I hope to touch people's lives for the better."
The singer-songwriter Harry Chapin once said, "To know is to care, to care is to act, to act is to make a difference."
Through her undergraduate research, Florida State senior Rebekah Landbeck has come to know about the debilitating effects that psychological trauma can have on people, and to care deeply about finding ways to make a difference for them.
Landbeck's research has, in part, been conducted in support of her psychology honors thesis, which focuses on aspects of post-traumatic stress disorder (PTSD). One of the hallmarks of this agonizing condition is the spontaneously occurring images that intrude into an individual's thoughts.
Working with Professor Walter Boot, who also serves as her thesis adviser, Landbeck is exploring the potential benefits of early intervention for those at risk of developing PTSD. Specifically, they are testing the possibility that placing a load on the executive control function of a person's working memory can reduce the frequency of intrusive images.
The value of this research was recognized when Landbeck's honors thesis received a prestigious Undergraduate Research and Creative Activity Award for 2011, an accolade Landbeck was eager to share.
"I've been so fortunate to have Dr. Boot as my thesis adviser," she said. "He has that rare ability to give the exact guidance needed while still providing plenty of space to allow a fledgling researcher to find her wings."
Landbeck entered Florida State as a junior and received a University Scholarship for Transfer Students, which is awarded based on academic merit. Since coming to FSU she has qualified for the President's List every semester, maintains a 4.0 GPA, and has been inducted into Psi Chi, the psychology national honor society. Her passion for research has led her to serve on the Student Council for Undergraduate Research and Creativity, as an assistant editor for the Florida State Undergraduate Research Journal.
Married to an FSU doctoral student in information studies, Landbeck intends to likewise continue her studies at the graduate level. In addition to her solid academic foundation in clinical and cognitive psychology and statistics, Landbeck says she has also gained a mentoring model.
"I just hope that the students I mentor one day," she says, "will think of me as highly as I think of Dr. Boot."
As for the research she has conducted and will continue to conduct in the future, Landbeck says, "By contributing to the understanding and treatment of psychological trauma, I hope to touch people's lives for the better."
---
Produced by the offices of Information Technology Services, the Provost, Student Affairs, Undergraduate Studies and University Communications.