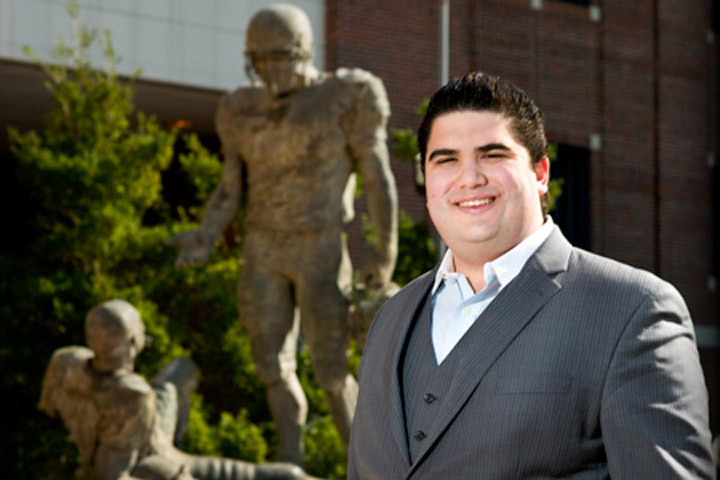 "Leadership is based on relationships with others."
Even before his first day as a student at Florida State, Armando Mendez was eager to find opportunities to serve his campus, his community and the world. In fact, he chose to attend FSU in large part because of his acceptance into the Service Scholar Program, a scholarship program that recognizes students who already have a record of service and prepares them to become active citizens and community leaders after graduation.
Mendez's work with the Service Scholars has included coordinating local service projects, such as helping neighborhoods to cultivate community gardens and organize libraries. This year, he is serving as the organization's program chair and is charged with creating the monthly program for the group's meetings.
In addition, Mendez is involved in the Undergraduate Certificate in Leadership Studies program, which prepares students for leadership in multiple ways. Through discussions he has had within the program's courses, Mendez has come to believe that leaders must be adept at adapting to an ever-changing world.
"Leadership is based on relationships with others," he said. "A leader's ability to truly understand those around him or her is critical."
As a freshman, Mendez co-founded the Fuller Center Student Builders at Florida State, one of the first student-run Fuller Centers for Housing in the nation. Since then, the organization has repaired or rehabilitated five home for impoverished Tallahassee residents.
"This type of service has been satisfying to me because, unlike much of the other service I do, the nature of helping to repair someone's home has an immediate and concrete effect," Mendez said. "This kind of service also provides an avenue for sustainable change to take place because we are constructing and repairing something that will last and serve a family for many years."
Mendez also has been active with Alternative Break Corps, making one trip as a freshman to Spain to serve a community of people living with HIV/AIDS, another as a sophomore to Haiti to volunteer at a homeless shelter and an elementary school, and a third as a junior to the rain forest of Ecuador to work on a construction project and share cross-cultural experiences with the indigenous Shuar people.
As a senior, Mendez has been interning with the U.S. Department of State's embassy in Santo Domingo, Dominican Republic. Working from Tallahassee, his responsibility has been to create a database with news stories about human trafficking and human rights violations within the Dominican Republic, which will be included in the State Department's annual human rights report.
Mendez also spent time as a junior in Washington, D.C., interning for U.S. Congresswoman Ileana Ros-Lehtinen (R-Fla.), the chairman of the House Committee on Foreign Affairs.
"These have been fantastic opportunities for me as an international-affairs major, because I have gotten to experience firsthand the immense impact that policy can have in addressing the root causes of various social problems," Mendez said.
The internships made Mendez aware of the global effect of U.S. policy and the importance of the relationships between the United States and other nations.
In recognition of his leadership through service to others, Mendez received one of six Florida State University Profiles of Service Awards for 2011. The distinction, sponsored by the Division of Student Affairs and the Center for Leadership and Civic Education, is given to students who demonstrate an exemplary commitment to community service at local, national or international levels.
"Armando blends intellect, curiosity and reflection into his daily life," said Laura Osteen, director of the Center for Leadership and Civic Education. "He intentionally turns moments of learning into daily acts of leadership. His passion for ideas and care for others combine to create a generous scholar and gentleman."
After he graduates from Florida State, Mendez plans to work for a year in Washington, D.C., and subsequently enter law school.
---
Produced by the offices of Information Technology Services, the Provost, Student Affairs, Undergraduate Studies and University Communications.