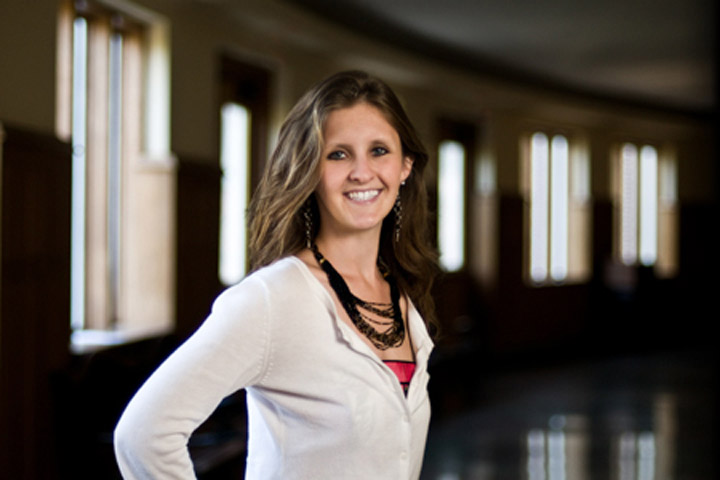 "The experience of serving others has become more than 'hours' on a transcript — service is what makes me happy."
As a student in Florida State University's College of Music, Erin Welch has devoted a great deal of time to studying music. But Welch has devoted as much or more of her time to studying social issues and being actively involved in service work locally, nationally and internationally.
In recognition of her tireless pursuit of service to the people and world around her, Welch was named the College of Music's 2011 Humanitarian of the Year.
"I have performed a lot of service hours, but honestly, the experience of serving others has become more than 'hours' on a transcript — service is what makes me happy," Welch said. "My experiences, especially in AmeriCorps and in El Salvador, changed the entire mission and philosophy of my life."
Welch spent her first year-and-a-half at Florida State as a music therapy major but decided to broaden her studies as she accumulated more service experiences. She decided to take on a double major in music and international affairs, with a concentration in Spanish and history.
A member of the FSU Honors Program, Welch has met the requirements to receive the Honors Medallion, as well as the requirements to be a member of the Garnet and Gold Scholars Society, which encourages participation in three or more areas: leadership, service, internship, study abroad and research.
Beyond her academic coursework, Welch has volunteered with several organizations to forge an extremely well-rounded college experience. Her impressive service résumé began in the 2008-2009 school year as a mentor to young at-risk children through the AmeriCorps Jumpstart program. She worked the following school year in the same program.
In 2009, Welch received the FSU Office of National Fellowships' inaugural Social Entrepreneurial Award.
"I used the $4,000 stipend from that award to teach in a rural school in El Salvador during the summer of 2009," she said.
Welch made a similar trip to Uganda in the summer of 2010.
In addition, Welch spent three consecutive spring breaks — 2009, 2010 and 2011 — volunteering with Alternative Break Corps.
"I've done construction work in West Virginia, and I served as the site leader on trips to tutor children in Missouri and assist people with visual impairments in Indiana," she said.
Welch also has volunteered with Florida State's annual PeaceJam conference, encouraging middle- and high-school students to promote peace in their own lives and communities. What's more, she led PeaceJam's first international service trip to El Salvador in the summer of 2011 to work with special-needs children at an orphanage.
Welch strives to keep herself as knowledgeable as possible about many of the service programs offered at FSU so she can give answers and advice to fellow students who want to get involved.
"I hope I have influenced others through leading by example," Welch said. "I have tried to excite others about performing service and learning about a social issue that they might not have had experience with before."
After she graduates from Florida State, Welch plans on pursuing a master's degree in international human rights law, as well as either urban and regional planning or public policy.
"I hope to someday work for an international, nonprofit human-rights organization," Welch said. "My goal is to empower and educate communities so they can achieve their fullest potential, and work to ensure that internationally recognized standards of human rights are upheld."
---
Produced by the offices of Information Technology Services, the Provost, Student Affairs, Undergraduate Studies and University Communications.