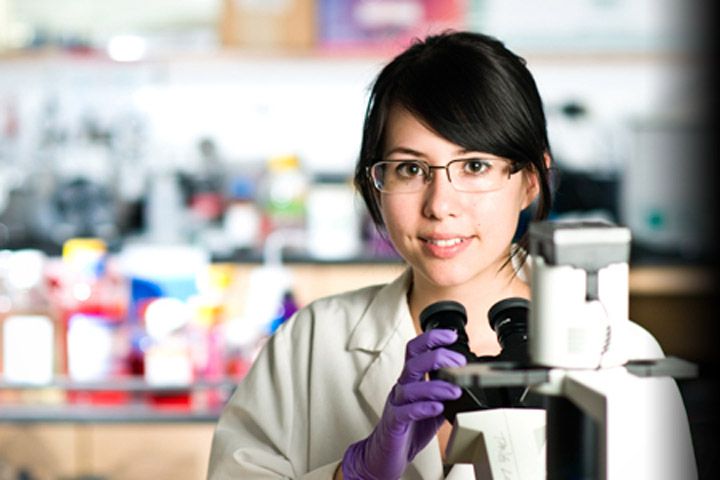 "I've found the professors to be highly professional and universally welcoming and friendly. Their knowledge, experience and enthusiasm encourage student involvement and enable our success. I feel honored to be here."
It is impossible to talk about senior biology major Emily Lee — a prolifically award-winning undergraduate researcher and a dedicated peer mentor — without repeatedly using some form of the word "honors."
A student in the University Honors Program, Lee has successfully defended her honors thesis on the hepatitis C virus (HCV) research that she has performed for the past two years alongside her Department of Biological Science mentor, renowned molecular biologist Hengli Tang.
Lee presented that honors thesis — "Development of a Quantitative Assay to Measure Hepatitis C Virus Infection" — at the 6th Annual Tri-Beta (biology honor society) Poster Competition regional conference. There, she was honored not only with first place but also with the opportunity to present her cutting-edge findings at Tri-Beta's 2012 national convention in Puerto Rico, where some of the nation's most outstanding undergraduate researchers will gather this spring.
On the heels of her top finish at the 2011 Tri-Beta Poster Competition, Lee received Florida State's prestigious Undergraduate Creative Research and Activities Award. Next, she earned the John Mark Caffrey Scholarship — and the Biological Science Alumni Scholarship. It's an impressive parade of undergraduate research honors that began when she won the Charles M. McAllister Undergraduate Research Award in 2010.
Today, Lee remains immersed in the honors research she's conducting in the Tang laboratory, where she's studying the use of stem cells as models for HCV infection. Soon, the Davie, Fla., native will graduate with Honors in the Major. And as a peer mentor, she may well have helped others to do the same.
"One of the many rewarding aspects of my work in the Tang Lab has been the chance to help welcome and train several other undergraduate researchers and rotational graduate students there," Lee said. "I also have worked as a chemistry and biology tutor in Strozier Library, where other student tutors and I try to clarify confusing concepts while also encouraging independent learning, which I believe is critical to student success."
But Lee also makes meaningful contributions beyond the classroom and campus, inspired by her most cherished mentors — her two sisters. She works alongside her twin sister, Taylor (also a proud FSU Seminole), to help organize Tallahassee Crop Mobs, an all-ages group that comes together to work side by side on small, sustainable farms with experienced farmers willing to share their knowledge for the good of the community.
After graduation, Lee will remain at Florida State to continue her HCV research in the Tang Lab, this time as a master's degree student in biological science. Longer term, her sights are set on a Ph.D. She's here to stay for a while.
"This university was always a first choice for me," Lee said. "The beauty of the campus and the energy evident among the student body is a strong complement to the academic opportunities. I've found my professors to be highly professional and universally welcoming and friendly. Their knowledge, experience and enthusiasm encourage student involvement and enable our success. I feel honored to be here."
---
Produced by the offices of Information Technology Services, the Provost, Student Affairs, Undergraduate Studies and University Communications.