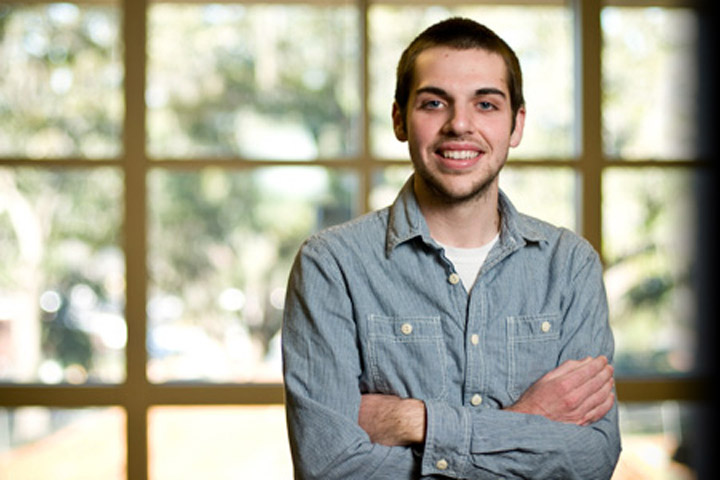 "While I'm proud of my academic accomplishments, I'm much more proud of my service accomplishments."
Among the things that initially drew Juan Mendizabal to Florida State University was its living-learning communities — residence halls where students in similar fields of study not only live but also take some of their classes. The fact that one of those communities was devoted to the field of social justice — a grouping Mendizabal found to be unique among colleges and universities — was a key factor in his decision to attend.
Being accepted into that community was, however, a natural progression for Mendizabal, whose focus on service to others preceded his university enrollment. And it's a focus he has only expanded upon during his time here.
In his freshman year, Mendizabal participated in the Service Leadership Seminar at the Center for Leadership and Civic Education. By his junior year, he was co-coordinator of the seminar.
Mendizabal also stayed involved with the social justice living-learning community, assisting in a public speaking class designed for that community, mentoring younger members and organizing service-learning projects.
Academically, Mendizabal has made the dean's list every semester since enrolling, a distinction that led to invitations from a number of academic honor societies. Mendizabal, however, decided to forego joining those organizations. As he puts it, "While I'm proud of my academic accomplishments, I'm much more proud of my service accomplishments."
In addition to receiving the Profiles of Service Award, another highlight of Mendizabal's time at Florida State was his participation in the Center for Leadership and Civic Education's 2010 LeaderShape program. Students chosen for this weeklong conference are provided opportunities to hone their vision, capacities and skills as a leader.
At the local-community level, Mendizabal furthered his education by serving in a variety of classroom settings at area middle and high schools, and by serving as an alumni assistant for the Hugh O'Brian Youth Leadership Foundation.
Says the Clearwater native, "The more I volunteer and get involved, the more I realize my interests lie in helping others."
To that end, Mendizabal plans to merge his leadership training with his area of study by joining Teach for America upon graduation.
---
Produced by the offices of Information Technology Services, the Provost, Student Affairs, Undergraduate Studies and University Communications.