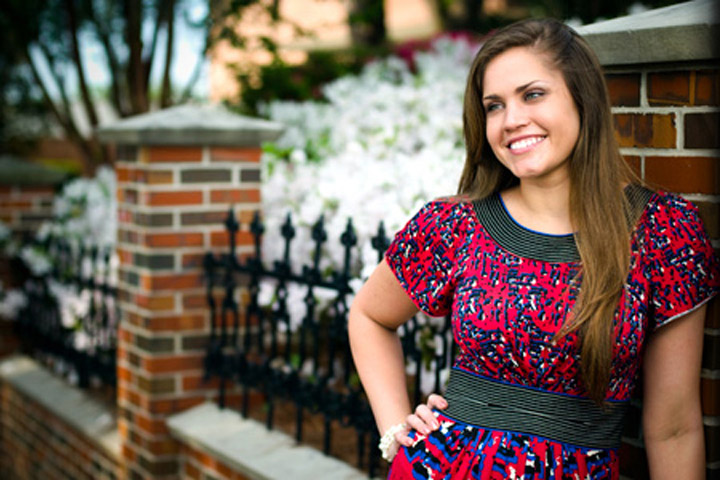 "Among the reasons I decided to attend FSU were the numerous opportunities to get involved."
The highly regarded 19th-century clergyman Phillips Brooks once said, "We never become truly spiritual by sitting down and wishing to become so."
Sitting down seems to be something senior Stephanie Prinz has had little time for — except maybe to attend to her studies. Endeavors that keep her on the move tend to be ones that allow Prinz to put her faith in action and, in turn, nurture her spiritual side.
Prinz has devoted countless hours of volunteer service to community and faith-based organizations, all while pursuing a double major in management and creative writing.
"Among the reasons I decided to attend FSU," says Prinz, "were the numerous opportunities to get involved."
Prinz's on-campus involvement has been largely through the Southern Scholarship Foundation house where she resides and has held officer positions. She also participated in a mission trip to Haiti in the summer of 2009 with Christian Campus Fellowship, an FSU campus ministry.
Off campus, Prinz participates in local church activities, and this past summer she was in Alabama for several weeks as a resident volunteer for a Christian summer camp for children.
On the scholastic side the Miami native has made the dean's list four times; has been inducted into three honor societies, including the National Society of Collegiate Scholars; and has earned two academic scholarships.
After graduating in the spring, Prinz plans either to attend graduate school or return to South Florida to help inner-city kids with learning disabilities.
---
Produced by the offices of Information Technology Services, the Provost, Student Affairs, Undergraduate Studies and University Communications.