---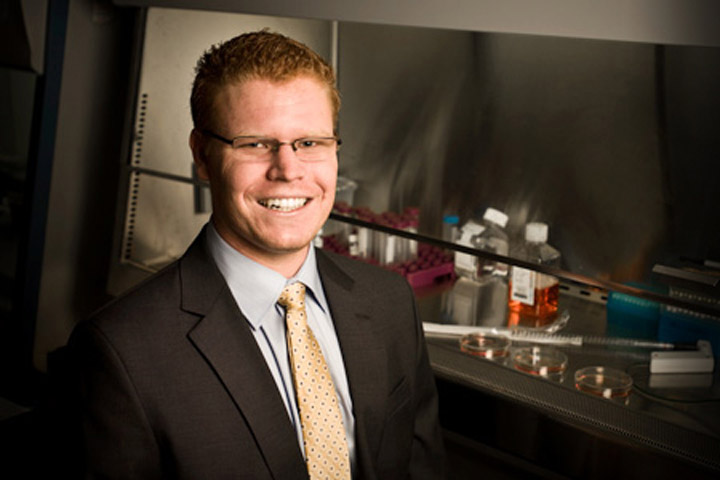 "It has always been my dream to become a doctor, but the quality of the research experience I've had at FSU has made me see that I could both practice medicine and discover ways to make it better."
Undergraduate researcher tackles "epigenetics"
Major: Biological Science
Graduation: Spring 2012
---
For biological science major Joshua Koerner, there was nothing experimental about his decision to attend FSU.
"I knew that Florida State would provide me with the strong undergraduate academic groundwork necessary for a successful career in medicine and the sciences," said the Davie, Fla., native, who plans to pursue both a medical degree and a doctoral degree after he graduates in 2012.
Undergraduate research would soon become an integral part of Koerner's life at FSU. The Department of Biological Science faculty opened doors for him early on.
Koerner quickly became a valued, contributing member of a faculty-student research team working on the cutting edge of a brand-new science called "epigenetics."
"I started working in the field of epigenetics in the fall of 2009 under the supervision of biological science faculty member Dr. Jonathan Dennis," Koerner said. "My undergraduate research experience has focused on the effects of natural anti-cancer compounds, such as those found in fruit, on DNA structure in cancer cells. That research has produced several novel, innovative approaches to measuring those effects."
Dennis recalled, "Josh contacted me before I had even arrived at Florida State as a new faculty member. He was eager for an opportunity to perform research that would reveal why the human genome doesn't always behave the way classic genetics predicts."
And FSU would help him to do so. In his junior year, Koerner won a highly competitive Atlantic Coast Conference Research Fellowship from the FSU Office of Undergraduate Research, which provided $5,000 in funding for his own research.
That research proved "fruitful." Koerner was able to demonstrate that luteolin, a naturally occurring compound found in many fruits and vegetables, actually changes the organization of the human genome in a way that may slow the development of cancer.
"I think that Josh's training as a physician began when he started his research in the lab," Dennis said. "Students like Josh are poised to become outstanding physicians as we enter an age of molecular and personalized medicine."
Science research is time-consuming, but Koerner's commitment to campus life has nonetheless extended beyond the laboratory and classroom. He has served as the tutoring director for the FSU Student Association of Pre-Health Professionals. His efforts have focused on children from underprivileged and single-parent homes in Tallahassee.
Koerner calls his academic, extracurricular and social life at FSU "good practice" for the lifetime of helping he has long planned. Undergraduate research illuminated the path to that future.
"It has always been my dream to become a doctor," he said, "but the quality of the research experience I've had at FSU has made me see that I could both practice medicine and discover ways to make it better."
---
Produced by the offices of Information Technology Services, the Provost, Student Affairs, Undergraduate Studies and University Communications.