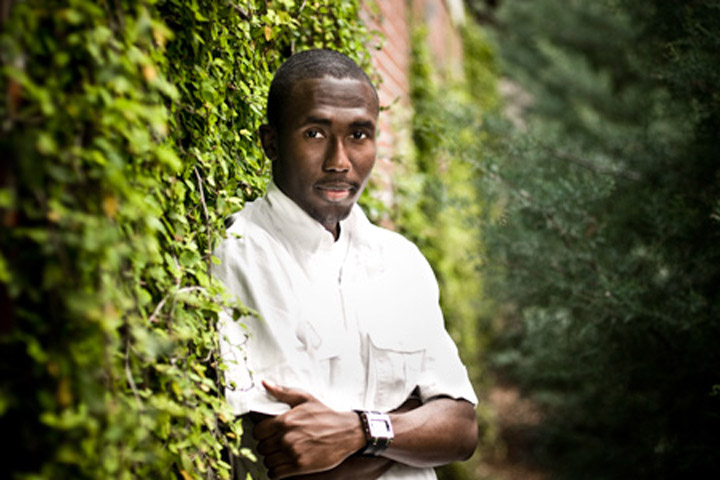 "As a foreign-born student, I have always felt that it was my duty to take advantage of the opportunities provided to me wherever I have been."
Long before the devastating earthquake of January 2010, the Caribbean nation of Haiti already faced serious challenges — political, economic and environmental.
Giovanni Merilis left his native country and moved to Miami with his family in 2000. He was 11 years old. Though he now calls the United States home, the Florida State University senior hopes to someday return to the land of high mountains and, armed with his bachelor's degree in environmental studies, help his fellow Haitians solve their most pressing environmental problems.
"Haiti suffers from things like massive deforestation and water pollution," Merilis said.
During his years at Florida State, Merilis has been able to get involved in many academic and research activities that helped him grow intellectually.
"As a foreign-born student, I have always felt that it was my duty to take advantage of the opportunities provided to me wherever I have been," Merilis said.
For instance, Merilis co-wrote two scientific papers, both of which have been published.
The first, "Nanotechnology and Microbial Electrochemistry for Environmental Remediation," was published in the journal Electrochemical Society Transactions.
"It describes the relatively inexpensive and efficient methods that our research group used to degrade two toxic dyes that currently pose health risks to inhabitants in certain parts of India," Merilis said.
The second paper, "From Nanoparticles to Hierarchical Structures: Controlling the Morphology of Zeolite Beta," was published in the journal Microporous and Mesoporous Materials.
"Zeolite beta can be used to enhance oil production reactions and has the potential to be used in biomedical applications, such as site-specific drug delivery," Merilis said.
Merilis has been actively involved in the Florida-Georgia Louis Stokes Alliance for Minority Participation, which works to increase the number of bachelor's degrees granted to minorities in the so-called STEM disciplines (science, technology, engineering and mathematics).
"During the annual conferences of the Louis Stokes Alliance, I was able to network with student researchers from the alliance's other 11 participating universities," Merilis said.
Merilis also was able to participate in the Nanoscience and Nanotechnology Institute at the University of Iowa during the summer of 2010. The institute was a two-week set of seminars designed to familiarize students with the relatively broad field of nanoscience.
What's more, Merilis was able to spend the summer of 2011 working in the department of environmental engineering at the University of Illinois at Urbana-Champaign using a bacterium to degrade herbicides that are discharged into the natural environment.
As for his short-term plans for the future, Merilis is applying to several graduate programs in hopes of continuing his environmental studies.
"Five years from now, ideally, I see myself working on the enforcement of environmental regulations and implementing efficient but relatively inexpensive methods of removing toxic materials from our environment," Merilis said. "Ten years after, I would like to provide environmental help to my home country of Haiti."
---
Produced by the offices of Information Technology Services, the Provost, Student Affairs, Undergraduate Studies and University Communications.