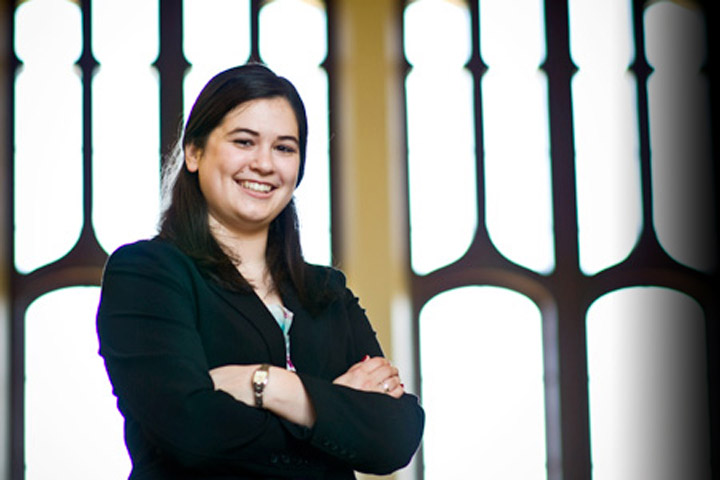 "I have enjoyed leading a new organization as it becomes known on campus and achieves its mission of offering more honors students a chance to participate in FSU's traditions."
Like the saying goes, "If you want something done, ask a busy person to do it."
As a student with two majors, a minor and involvement in numerous areas of campus life beyond the classroom, Florida State University senior Samantha Sanfilippo certainly has kept busy. So when Sanfilippo saw the need to help overhaul a major component of Florida State's honors community, she did not shy away from the challenge.
"As a freshman, I joined the Honors Council, which is part of the university Honors Program," Sanfilippo said. "By my junior year, it became evident that the 16-member Honors Council was not as effective as it could be in serving Florida State's more than 4,000 honors students."
With the support of the university's Honors Program, Sanfilippo and her fellow Honors Council members rolled up their sleeves and got to work, revamping the Honors Council into a higher-profile organization.
"During my junior year, I helped lead a transition team whose goal was to convert the existing Honors Council into a more inclusive and multitiered organization known now as the Honors Student Association," Sanfilippo said. "Our vision was to create an organization that would give a significantly higher number of honors students opportunities to get involved in leadership positions and to partake in FSU-sponsored events."
As a rising Florida State senior, Sanfilippo was elected as the founding president of the Honors Student Association. Today, it is one of the largest student groups on campus because every honors student automatically becomes a member.
"I have enjoyed leading a new organization as it becomes known on campus and achieves its mission of offering more honors students a chance to participate in FSU's traditions," Sanfilippo said.
As a political science major, Sanfilippo wrote an Honors-In-The-Major Thesis, "The Media, Belief Updating and Iraq's Missing Weapons of Mass Destruction," under the supervision of political science Associate Professor Jason Barabas.
"The purpose of my thesis was to explore how the changing media environment from 2003 to 2004 influenced public opinion and knowledge of Iraq's weapon programs," she said.
Sanfilippo was the only Florida State undergraduate student who was given the chance to present her thesis at the spring 2011 conference of the Midwest Political Science Association in Chicago.
"Sam is bright, hard-working and exceptionally nice," Barabas said. "Her Honor's Thesis was ambitious and could be published one day."
Because of the quality of her research and the leadership that she has provided throughout her career at Florida State, Sanfilippo was selected as one of the university's 2011 Outstanding Senior Scholars.
After graduation, Sanfilippo will spend the summer in Washington, D.C., working as an intern with the Center for American Progress' Media and Public Opinion division. Afterward, she plans on pursuing a law degree and a master's degree.
---
Produced by the offices of Information Technology Services, the Provost, Student Affairs, Undergraduate Studies and University Communications.