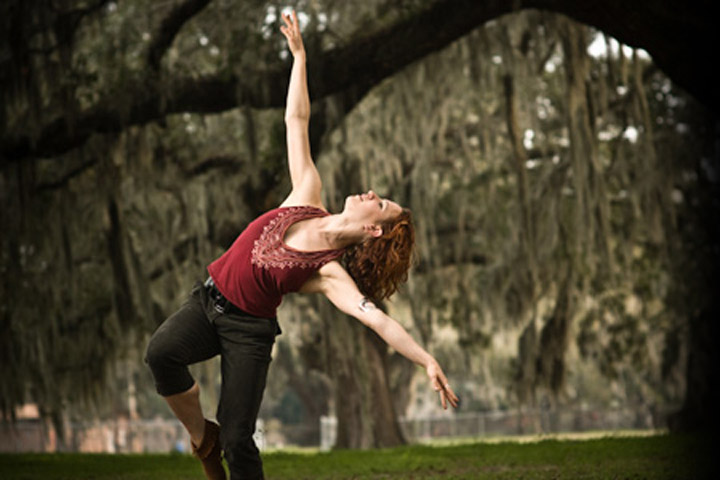 "FSU has been a perfect dance partner.""
From classical ballet to avant-garde modern expression, showcasing the art of dance for audiences unfamiliar with its myriad manifestations is senior Caitlin Hafer's mission, and she's good at it.
"Caitlin is persistent in her desire to explore, to innovate, and to find the edge of every boundary that her artistic and intellectual projects present," said FSU School of Dance Professor and Chairwoman Patty Phillips. "What is so striking about this, however, is how she then infuses everything she creates with such a sense of harmonious energy."
That marriage of harmony and energy is evident in Caitlin's community outreach work as a member of FSU's celebrated Dance Repertory Theatre. She has been a featured dancer not only in countless on-campus productions but also in rarefied circles such as Sarasota's Ringling International Arts Festival. Her pursuit of a Bachelor of Fine Arts degree with Honors in the Major has encompassed not only on-stage performance but also scholarly research on dance's history and public impact.
Caitlin's commitment to both artistic and academic achievement hasn't gone unnoticed at Florida State.
Each semester the intrepid St. Louis native has been awarded both an out-of-state tuition waiver from the School of Dance and a Freshman University Scholarship. FSU also bestowed a 2010 "Mentored Research and Creativity Endeavors Grant" that enabled her to investigate ways of expanding dance audiences. And she received an Honors Thesis Award that funded her "Dance for Camera" project, in which she studied people's reactions to "site-specific" dance (performances that take place outside of traditional venues) and other examples of art in unexpected places.
"FSU has been a perfect dance partner," Caitlin said.
"I came here because the dance department's quality and the variety of study makes it second to none," she said. "Its incredible faculty includes current leaders and prominent figures in both ballet and contemporary dance. And unlike other programs that require a focus on one aspect of dance, such as ballet or modern, FSU's allows students to focus equally on both forms if they wish. We also get to explore a wide range of related studies, such as dance technology and dance history."
After graduation, Caitlin will be westward bound, and not for the first time. Summer 2009 found her building invaluable career skills and contacts as a Choreographic Resident at the San Francisco Conservatory of Dance. Soon, she'll return to the area to work as a dancer and choreographer.
"I hope to collaborate with other choreographers and artists to help them realize their artistic visions, which for all of us includes sharing dance with an ever-wider audience," Caitlin said. "Just as I did at FSU, we'll measure our success by those audience members who go back out into the world with a newfound love of dance and an interest in supporting it."
---
Produced by the offices of Information Technology Services, the Provost, Student Affairs, Undergraduate Studies and University Communications.