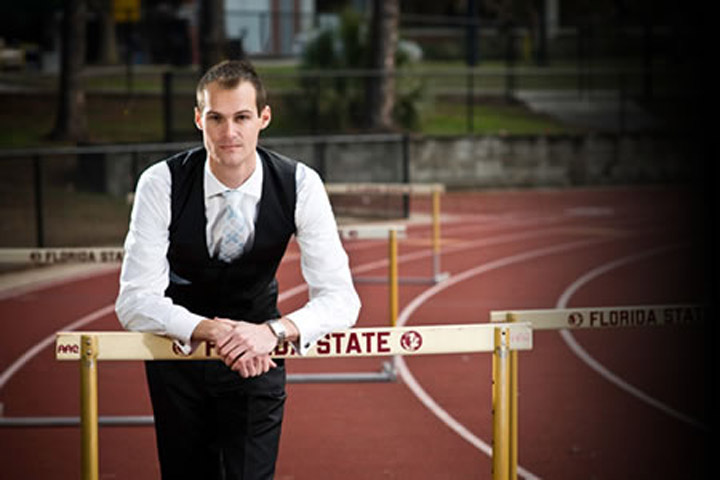 "Through my own entrepreneurial endeavors as a student and now as an alumnus I'm hoping to give something back both to Florida State and the community, while also inspiring future student-entrepreneurs to start companies here."
Entrepreneur Michael Fingado knows a lot about hurdles.
The son of two U.S. Marines, Michael was a junior at the high school in Lake Orion, Mich., when his performance in the 110-meter sprint hurdles landed him on the All-State track-and-field team. Meanwhile, he was dreaming of a college education that would help to advance his ambitious academic and entrepreneurial goals as well as his athleticism.
Paying for that education, however, would be up to him.
At first, in-state options seemed promising, and practical. Athletic scholarship offers were arriving from across Michigan. Then, Michael encountered an unexpected hurdle: His parents were making plans to leave the state.
So he took a chance on a dream school. He contacted the Florida State University sprints-and-hurdles coach, who invited him to visit the campus and consider joining the track-and-field team as a recruited walk on — with one caveat: By then, all the scholarships for Michael's class of recruits were gone.
Despite the looming financial hurdles, the aspiring entrepreneur saw Florida State as an ideal fit. He decided to apply and, as he likes to say, the rest is history.
"To pay my own way, I decided to pursue my family's military tradition," Michael said. "Both my parents were Marines, and much of who they are today is a result of their military service. Back in Michigan, I took the physical fitness test and applied to the Army ROTC scholarship program. I was required to serve four years of active military service after college, but for me, it was a risk worth taking."
Ultimately, Michael received a full Army ROTC scholarship and, in the fall of 2005, arrived at Florida State as a military cadet. He chose to major in Applied Economics and minor in both Business and Communications.
He also became a walk-on hurdler for the team that went on to win three national and eight ACC track-and-field championships between 2005 and 2010.
During that period, Michael was running hurdles both on and off the track. He balanced a full-course workload as an undergraduate and later as a graduate student with the demands of ROTC training, Division 1 athletics, two part-time internships, volunteer activities with his fraternity, and several entrepreneurial projects.
"It's difficult for me to imagine working with a more disciplined, sensible, well-balanced and thoughtful student-entrepreneur than Michael Fingado," said Tim Holcomb, the Jim Moran Professor of Management and Entrepreneurship in the College of Business.
"He was a gifted student with truly unique talents, and one of only a small handful who possessed the stamina and focus to successfully balance the demands of higher education and competing collegiately at the highest level," Holcomb said. "Michael excelled at both and, remarkably, he did so while pursuing his dream to start and run his own businesses."
Those businesses include Notelog LLC, an online social learning platform used for sharing and managing academic knowledge on college campuses worldwide. The growing company also features Looksforbooks, a real-time price comparison tool for textbooks. Notelog LLC was one of the first three enterprises to co-locate in FSU's Jim Moran Institute for Global Entrepreneurship Student Business Incubator after it opened its doors in September 2010.
Then, there's Athletepreneur, an online initiative that Michael co-founded with former teammate and Olympian Brian Dzingai. The site offers ideas and networking opportunities for entrepreneurial-minded athletes.
"Through my own entrepreneurial endeavors as a student and now as an alumnus I'm hoping to give something back both to Florida State and the community, while also inspiring future student-entrepreneurs to start companies here," Michael said. "I'd like to think that I could help them with some of the hurdles."
---
Story: Libby Fairhurst; Photo: Melissa Meschler