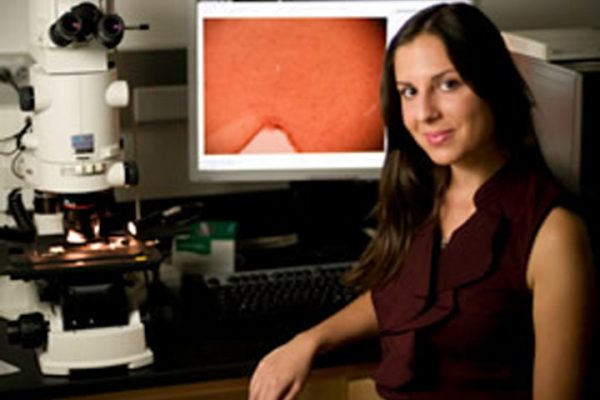 "I was humbled to experience life in a Third World country."
As a Florida State freshman Ioana Stroe seized opportunities — inside and outside of the classroom — that defined her academic career and changed the way she sees the world.
"I was fortunate to be introduced to a wonderful organization called Health and Educational Relief for Guyana. It has become very dear to my heart," said the senior Biological Science student. HERG's mission is to provide healthcare assistance and educational support to the country's population and to foster leadership and growth in the students who become involved.
She served HERG as its public-relations officer before becoming president of the organization for two years. Ioana, who hopes to become a doctor, traveled to Guyana twice as a volunteer on medical missions. The first visit had a profound effect upon her.
"I was humbled to experience life in a Third World country. … The trip changed my life forever." The suffering she observed was made all the more poignant by "the courage and perseverance I saw in the people we were helping," she said.
During the summer of 2008, she did triage in a makeshift clinic. "I did basic things like check blood pressure and blood-glucose levels. The clinic had no walls, just a roof. We had no electricity. When we arrived to set up two hours before the clinic was to open, there were already hundreds of patients waiting to be seen. This is the only access to medical care these people have."
The next summer, Ioana participated in a surgical mission. This time the volunteers worked in a hospital in the city of Georgetown. "In American operating rooms, the air doesn't circulate throughout the hospital like it does there," a practice that leads to a high infection rate among surgery patients, said Ioana.
Physicians in Guyana do not have the training to perform knee and hip replacements, so HERG brings doctors with that expertise to perform such surgeries. "Most people do not have running water, so they bathe in rivers," which is another source of infection for surgery patients, said Ioana.
Clearly, Ioana came away from these experiences a changed person. "I no longer take my life for granted. I feel I have to push forward to help those in need," she said. That impulse motivated her to become a respite-care volunteer for Big Bend Hospice, work that she did for two years. Ioana's dedication to Hospice and its clients earned her the Heart of Hospice award.
Ioana's passion for learning is as great as her compassion.
"I met Ioana in my course on the history of ancient science and medicine four years ago, and I thought she was at least a junior," said Professor Svetla Slaveva-Griffin. "Her motivation, interests and work discipline were extraordinary." Professor Slaveva-Griffin inspired Ioana to pursue a minor in classics.
During her first semester, Ioana also met Professor Michael Meredith, director of the Chemosensory Training Program, who found a place for her in his lab. "At first I was a sort of lab tech, but my thirst for knowledge led me to take on more responsibility and to start my own research project." She has continued to do research, and, in fact, now is spending more time in the lab than ever.
"Dr. Meredith has inspired me and contributed so much to my studies," said Ioana.
The research Ioana is doing "is the hardest I've worked on," she said. It keeps her in the lab about 30 hours a week, but she seems to be thriving on the intensity of the effort.
"I study whether an area of the brain called the amygdala — which functions in olfaction (sense of smell) as well as fear responses and learned social behaviors — responds to another area of the brain called the intercalated nucleus, which may act as a switch between conscious and unconscious behavior " said Ioana.
Essentially, she is trying to determine how animals distinguish smells that are important to their survival from those that are not. "Figuring out how these mechanisms work in the brain will allow us to understand more about animal behaviors important for survival and the brain processes that determine these behaviors," she said.
After graduating this spring, Ioana hopes to teach high-school biology for a year, before beginning medical school. She wants to continue to work with HERG, but as a physician. "I want to have an impact on global health efforts. … I plan to put the many valuable lessons I've learn at Florida State into practice throughout my life."
---
By Zilpha Underwood