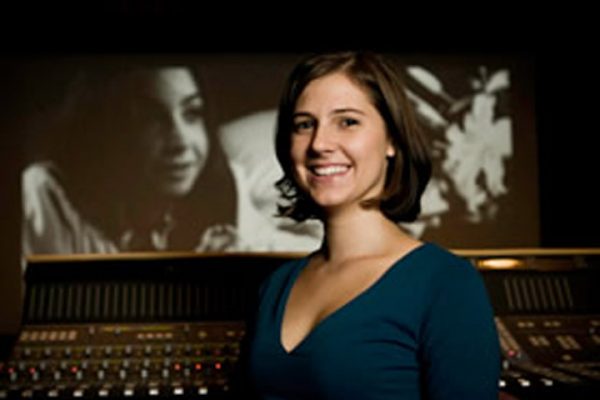 "I want to be one of the filmmakers who break away from the sort of 3D films we've seen so far to make something entirely new."
"I want to bring films with thought and meaning to 3D," said Hali Gardella, who graduates this month with a bachelor's degree in film production from the College of Motion Picture Arts, aka the Film School.
This isn't idle talk. Hali is one of a handful of Florida State students who have worked with 3D technology. She was the executive producer of the university's first 3D-film project, a collaborative effort of the College of Communication and Information, the Film School, the Department of Scientific Computing and Seminole Productions.
The film, which is still in post-production, is "a series of landscapes of students around campus," said Hali. "We filmed a dancer, a music ensemble, the control room at the College of Communication, a scene on the Film School's back lot and other things around the university."
"This is one of the biggest, most challenging projects the Film School has been involved with," said Hali.
Before embarking on the 3D project, Hali had spent three months researching stereoscopy (the technical name for 3D) film production in her role as creative research assistant for her instructor Rexford Metz, ASC. Metz, who worked with students on the 3D film, is a cinematographer whose credits include "Jaws," "Indiana Jones and the Last Crusade" and scores of other films.
During that time, "Rex pushed me to learn everything I could about 3D," said Hali. When it came time to begin making the film, Hali became the executive producer.
What does an executive producer do? "The producer is essentially the person who makes sure everything that needs to happen for the set to run, happens," she said. Film School students naturally were excited about the prospect of working on the university's first 3D film. "They were 100 percent into it," said Hali.
Clearly, one must have leadership skills to be a successful film producer. "Hali organized the participation of her entire class," said Dr. Valliere Richard Auzenne. "Quite an undertaking for an undergraduate student."
With all her classmates eager to be a part of the 3D project, divvying up the work in a way that addressed their strengths and interests was a challenge. "I wanted to do it in the most democratic way possible, so I wrote up job descriptions, and students applied for the jobs they wanted," she said.
Perhaps this is one of the reasons Hali recently received the Florida State University Academic Leadership Award from the Film School— but there are other reasons as well. Since the fall of 2008, she has been the student representative to the dean of the Film School. Hali also was chosen to be a "Head Handler." In that role she guided prospective students through the interview process for admission to the highly selective Film School.
After the Haiti earthquake in January, Hali traveled to Port-au-Prince to work on a documentary in collaboration with the Florida Association for Volunteer Action in the Caribbean. While there she interviewed Haitian leaders including the Minister of Culture and Communications, the director of the public-television station, a representative of the U.S. Embassy and musician and activist Richard Morse.
"I was on my computer when an e-mail went out to all the film students asking if someone wanted to go to Haiti to make a film," said Hali. "I dropped what I was doing and literally ran to the office."
She has worked on other documentaries during her time at Florida State. Hali did some of the camera work on a film shot in Seaside, Florida, about the architectural movement referred to as New Urbanism; and she interviewed Robert Davis, the father of that movement, and Leon Krier, one of the most influential neo-traditional architects and city planners, for the film.
Hali directed "White Walls and Half Notes," a documentary about The John Entwistle Foundation, a foundation created in memory of the former bass player of The Who, that supports the use of music therapy in children's hospitals. "(She) approached this project with a high level of professionalism, maturity and sensitivity, qualities that are greatly needed when producing documentaries involving healthcare issues and children," said Professor Auzenne.
In addition to these films, Hali has produced and directed several others and served as production designer on two films. For one of those films, she had to plan and construct a Rococo hotel room. "It was gigantic, and I had to build it in three days," she said.
For her senior thesis, Hali has made a short film that will be shown with other student films this month. "It's called 'Eyes of Isla.' … It's a surreal, post-modern romance shot in black and white. It deals with the end of a relationship between a painter and a woman who can't see colors." The eight-and-a-half-minute film "is a cautionary tale about feeling inadequate when relating to others," Hali said.
While Hali says she's really a "story person," her experience with 3D technology has added another dimension to her passion for filmmaking.
After graduation, she will be moving to Los Angeles. "My main interest is to work in 3D production. … There is so much that 3D has to offer. We've only begun to explore its potential. I want to be one of the filmmakers who break away from the sort of 3D films we've seen so far to make something entirely new."
---
By Zilpha Underwood