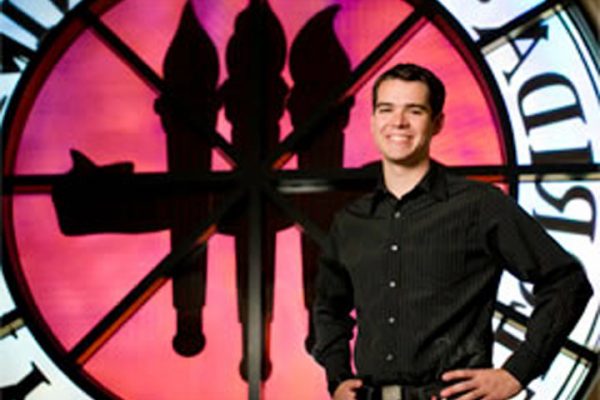 "I knew (all the effort to set up the reCycle Bikes Program) was worth it when, after three minutes, all the bikes had been rented, and our waiting list had more than 50 names on it."
Sandy Simmons is a man of action. This is obvious when you look at what he has accomplished in his first two years at Florida State.
As a freshman, the physics and astrophysics major wondered how students were able to travel the-sometimes-great distances between back-to-back classes and arrive on time.
Sandy, now in his second year as a resident assistant, attended a conference for R.A.'s last year and heard about a bike-rental program in place at another university. "I was impressed and thought we could implement something similar at FSU." Unfortunately, he discovered that it wasn't so simple.
"I thought we could round up all the abandoned bicycles left on campus after the spring semester, fix them up and give them to students in the fall for free," he said. It turns out there is a Florida statute that requires abandoned bikes to be sold in public auction and the money go into the university scholarship fund.
There also were complicated liability issues, and the bike program required support of a university department. "Every time I pitched the idea to a faculty or staff member they would bring up the failed bike program started five or six years ago," said Sandy. Those behind that project perhaps relied too heavily upon the innate goodness of humankind. All the bikes were stolen within the first month.
Disappointed by these obstacles but undaunted, Sandy kept looking for a way to make his bike project work.
"While others were talking about the problems surrounding cost, implementation and liability, Sandy just set about creating it," said Dr. Joyce Howard, director of Student Government Association. "I know of few students with the passion and drive that Sandy has."
With $4,000 in grant money from the Marketing Institute within the College of Business, Sandy was able to get what is now the reCycle Bike Program off the ground this fall with 17 bikes. "Students assume financial responsibility for the bikes, which they rent for $20 a semester. For the fee, the student also gets a helmet, lock, light kit, backpack and lanyard," said Sandy.
"Creating this program was such a great learning experience for me. I knew that it was worth it when, after three minutes, all the bikes had been rented, and our waiting list had more than 50 names on it."
Elizabeth Swiman, coordinator of Service Learning at the Center for Leadership and Civic Education, is impressed by Sandy's commitment to projects designed to reduce our impact on the environment.
"(For the last three football seasons) Sandy has been a super-star volunteer for Garnet & Gold Goes Green, (G4)" she said. G4 volunteers clean up and recycle several tons of bottles and cans before each home football game. "He also helped set up Eco-Reps, a collaborative effort between the Sustainable Campus Initiative and University Housing/Residence Life."
Sandy's work with the Student Government Association began when he became deputy secretary of Internal Affairs during his freshman year. His focus in the position was teamwork and the environment. His goal was "greater collaboration among the three branches of student government — and the creation of a sustainability committee within SGA," he said.
He was named SGA Executive Branch Member of the Year, 2009-10. He also was elected a student senator last year and during his term was elected chairman of the Student Affairs Committee.
Sandy continues to be involved in the Executive Branch of SGA, now as secretary of Academic Affairs. He was named Chairman of the Year for the 62nd student senate.
At the urging of Professor Christopher Gerardy, Sandy and another student, Lauren O'Connor, are writing a training manual for students doing research in the physics and astrophysics department.
Sandy has a few other projects going on as well, one of which is revamping and streamlining the university's on-line registration program. It's not the first time he's worked on a university website project.
Sandy and his friend Kevin Uhler created an online calendar of university lectures this spring. The friends also established Young at Heart Entertainment, a student organization that arranges for musicians to perform for people in local retirement homes.
Although Sandy's post-graduation plan is still taking shape, he says it includes graduate school. "We have so much to learn about space. Ultimately, I would like to work in the field of space physics to further our understanding and exploration of the cosmos."
---
By Zilpha Underwood