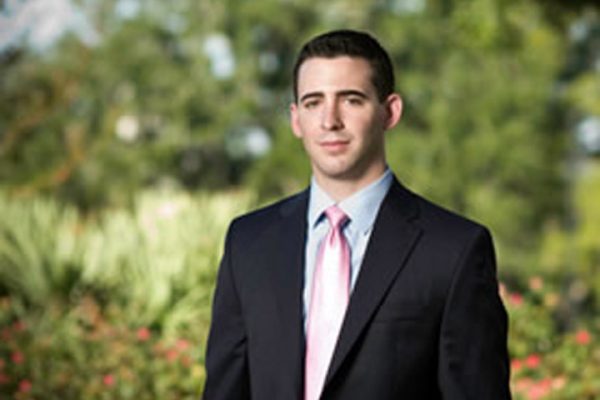 "I quickly realized that Florida State students absolutely can compete globally."
With just one more semester until he graduates, Andrew Moore is on top of the world. All his hard work, his focus, his drive have paid off. The finance major with a minor in statistics has landed a job as an analyst with one of the top investment management firms in the world.
It was quite a coup for Andrew to have been chosen as a summer intern for Pacific Investment Management Company, LLC. But, being offered a job when the internship was over is a dream come true.
"PIMCO is one of the smallest major asset managers in terms of the number of employees," said Andrew, who will work in the Institutional Business Group. "There are only 1,300 employees. Most of them work at the headquarters in Newport Beach, California. … A lot of Wall Street firms call us 'The Beach.'"
At the end of this September, PIMCO had $1.3 trillion of assets under management including the Total Return Fund, the world's largest mutual fund with assets of $255.3 billion.
Before he was offered the internship, Andrew had four phone interviews with the people at PIMCO. Passing that vetting, he was invited to Newport Beach for a series of five back-to-back interviews with various managers.
"My main accomplishment last summer was using my finance and computer programming knowledge to automate a couple of the processes that are used to generate internal reports where data must be brought together from multiple databases and systems, increasing efficiency," said Andrew.
He learned a lot from being part of a group of interns that included students from the top business schools in the world. "I had no idea what the top students from the top schools would be like or how I would stack up against them," he said.
"I quickly realized that Florida State students absolutely can compete globally." He was surprised how few of his fellow interns were working on double majors or had a statistics background.
"Looking back, coming to Florida State was one of the best decisions I ever have made," said Andrew, who grew up in Virginia Beach, Virginia.
Andrew is right to be proud of the education he has received at Florida State, just as the university is proud to attract students as extraordinary as Andrew. He has maintained a 3.9 grade-point average throughout his academic career. He was one of only a few undergraduates to enroll in Professor James Doran's Derivatives and Risk Management course, which is taught to MBA students.
"Dr. Doran has been a highly influential figure in my academic life — and a huge inspiration to me," said Andrew. "His derivatives class is the hardest class I have ever taken," he laughed.
Leslie Mille, advisor for the College of Business Student Leadership Council, knows Andrew though his participation in the group. He was selected for SLC in fall 2009 and was elected vice chairman in the spring.
"Andrew … is filled with passion, enthusiasm and excitement about his educational and extracurricular experiences," she said. "(He) is a leader, and he has impressed me with his motivation and determination to succeed."
That determination to succeed motivated Andrew to "lock myself in my room or find a quiet place to hide at Strozier so I could read everything I could put my hands on about finance — and there's a lot out there to read. … To be successful you have to spend an enormous time reading. You just have to."
Andrew is looking forward to a break from his studies. He knows the new job will require long hours, hard work and stress, just has college life has. "But it will all be new."
After graduation Andrew will have some time before he begins working at PIMCO. He's thinking he might just pack up and take a leisurely drive across the country, stopping in beautiful places to camp and enjoy life.
"I fell in love with mountain biking last summer. I love the outdoors, and it would be great to hit some of the country's best trails along the way. I believe there's a time to work, and there's a time to have fun."
---
By Zilpha Underwood