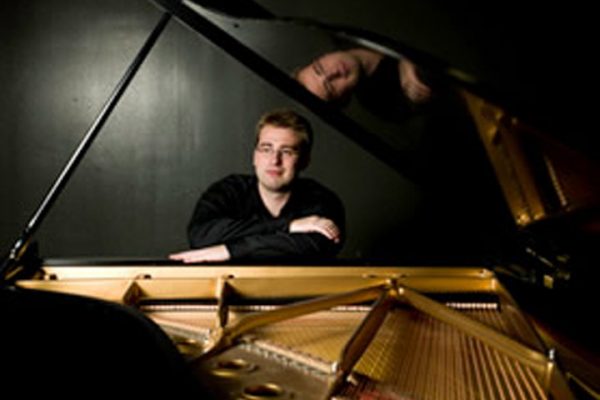 "Music is meant to unify, not divide."
Andrew Focks, a senior piano performance student and recipient of the Brautlecht Scholarship for Performance Excellence, won both the Music Teachers National Association state and regional piano competitions for 2009-10 and was named a National Young Artist Finalist. These are significant awards to add to his growing list of prizes.
Pleased as he is to be recognized for his talent, Andrew sees something ironic about the idea of a musical competition. "Music is meant to unify, not divide," he said. "I hate competitions," but, he admits, "as musicians, we must compete. It is absolutely necessary. We have to do it."
There are opportunities for musicians that might not arise without competitions. For instance, as winner of the Imperial Symphony Concerto Competition in Lakeland, Florida, Andrew performed a Rachmaninoff concerto with the symphony.
Taking part in summer music festivals in Austria, Italy and China has afforded him countless outstanding opportunities, one of which is the opportunity to take master classes with some of the most distinguished musicians from around the world. "It's always an extraordinary experience."
Andrew, who grew up in Boston and attended the elite New England Conservatory of Music, came to Florida State to study with Professor Read Gainsford. "I was assigned to Dr. Gainsford when I attended the Summer Piano Institute at the Ithaca College (in Ithaca, New York). I immediately found a deep connection to the way he taught," he said.
That was 2005, and Andrew was a high-school junior. In 2006, when his teacher took a job at Florida State, Andrew attended a summer piano camp here, "to work again with him and to get a sense of the school. " He returned the following summer. "I loved the environment."
When it was time to decide where he would go to college, Andrew decided it had to be Florida State. By now Dr. Gainsford had become a mentor, and Andrew felt strongly that continuing with him was best for his development as a pianist.
"Andrew is a strong player," said Professor Gainsford. "(He has) the ability to give a concert artist's perspective in performing, where he can be exceptionally engaging.
"He plays with great confidence and strength, with passion, expressivity and an appropriately wide range of stylistic choices to suit the repertoire he is playing, from the wit of C.P.E. Bach to the drama of Liszt's Dante Sonata," said Professor Gainsford.
"One of the wonderful things about studying piano," said Andrew, "is the opportunity to work one-on-one with some of the great minds of the 21st-century."
Andrew's first teacher was Patricia Clark, who first taught him in a Kindermusik Program when he was four years old. She was his piano teacher from the time he was six until 16.
Last March, when Andrew was to compete with the five other finalists in MTNA competition in Albuquerque, New Mexico, "Patty flew from Boston to be there for me. … It was incredible."
In 2005, Andrew was invited to audition for the pre-college program at the New England Conservatory of Music. "I was to audition with two of the top teachers there," he said. He was utterly rejected by the first teacher. "He told me I needed to forget about a solo career … I would never be good enough."
As upsetting as that experience was, Andrew auditioned for the second teacher, Professor Ya-Fei Chuang. "She told me that she could teach me what I needed to become a successful performer. … (and) that I possessed a sense of the music and a passion that can't be taught.
"We worked very hard for the next two years. I grew enormously," said Andrew. "I graduated with what the conservatory calls the 'distinguished high pass with honors award.'"
For the last three summers Andrew has studied with Professor Chuang at the Mozarteum Summer Academy in Salzburg, Austria. "It is the most incredible music environment in the world. There are about 15 concerts a night. … Every year I have gotten to perform."
Andrew also has studied and performed at the Corsi Internazionali di Musica in Urbino, Italy, The Schlern International Music Festival, Schlern, Italy, and the Chinese-American Piano Institute at the Sichuan Conservatory of Music in Chengdu, China.
He was named Top Pianist from the U.S. at the Chinese-American competition and performed in the closing festival.
After Andrew graduates in the spring, he will begin graduate school. He is not yet certain where or with whom he will be studying.
Andrew is grateful to Dr. Gainsford "for his devotion of time and energy. He has shown the highest level of dedication to my development. … I admire him as an artist and teacher. I hope to be able to take his example into my own teaching one day."
---
By Zilpha Underwood