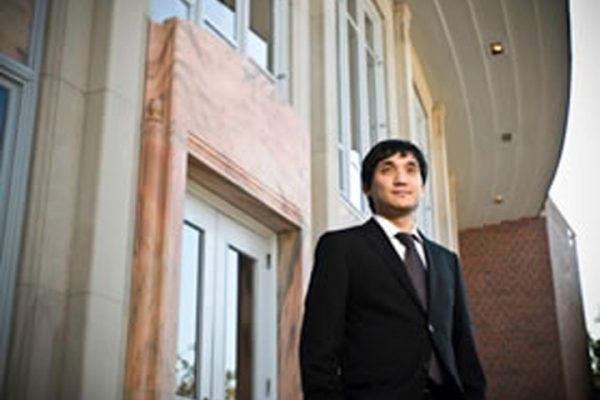 "The (College of Music) has been enormously supportive of me. The faculty has made it possible for me to get out and do things I couldn't have done otherwise."
For most of us, it's no big deal if we haven't decided upon our life's work by the time we are 15. For a musician it is a very big deal to have arrived at that advanced age before deciding on a career in music.
Music doctoral candidate Wonkak Kim had taken piano lessons when he was a child, but it wasn't until he was 15 that he began studying the clarinet. That was 10 years ago. In 2007, he made his solo debut performing Carl Nielson's Clarinet Concerto with the Washington Metropolitan Philharmonic. The Washington Post called his performance a "winner."
"I have spent an enormous amount of time practicing, but is fun. It's my entertainment," said Won, who was born in Seoul, South Korea, lived for a time in France and moved to the United States in 2000.
At the same time Won was sharpening his musical skill, he was working on getting bachelor's degrees in mathematics and music from The University of North Carolina at Chapel Hill, where he was a Distinguished Scholar. He came to Florida State in 2007 and earned a master's degree in music in clarinet performance.
Today, Won is working on his doctor of music degree at Florida State's College of Music, traveling the world for solo and chamber music performances, winning awards and commissioning music by esteemed composers. He also teaches in the School of Music and tutors math students.
He was encouraged to come to Florida State by Professor Don Oehler at Chapel Hill, a friend of FSU Professor Frank Kowalsky. "This was very fortunate for me. The College of Music is excellent, the faculty is great, the students are diverse," said Won. "I have had the opportunity to work with Professor Kowalsky, who is one of the best. … He is my mentor," said Won.
Professor Kowalsky, Florida State's Joseph A. White Professor of Clarinet, said, "Our time together is always interesting and musically exciting. We delve deeply into considerations of tone production, technique and musical meaning."
Won is a founding member of the chamber music ensemble enhake (which means "sound" in the Seminole language). He and members of enhake traveled to Seoul in October to perform at the Pan Music Festival presented by International Society of Contemporary Music. They played a piece the ensemble had commissioned Libby Larson, one of America's most prolific and most performed living composers, to compose for them.
His repertoire is evidence of what Won has accomplished since he began studying the clarinet. He is committed to knowing it so well he doesn't need to have the music in front of him, which he said, "puts a barrier between me and the audience. … I learn it by heart and play out of love."
Awards for performance are especially important in a musician's career because they are tangible indications of achievement in this abstract art form. The list of Won's awards is impressive.
He is a 2010 Presser Prize Laureate. This award of $10,500 is given to students who demonstrate excellence and promise for a distinguished career. It's to be used for "enrichment and musical advancement." Also this year, he won Florida State's Doctoral Concerto Competition and first prize in the Mary Graham Lasley Competition in Alexandria, Virginia. And there have been many more.
Won recently performed Mozart's Clarinet Concerto with the University Symphony Orchestra as the 2010 Concerto Competition winner, which received a prolonged standing ovation.
"The university has been enormously supportive of me. The faculty has made it possible for me to get out and do things I couldn't have done otherwise," said Won.
His recent trip to Seoul to perform was his second this year. He's performed widely in the U.S., Central America, Asia and Europe performing at major venues, including Carnegie Hall, the Kennedy Center and Constitution Hall. And, he has been a featured soloist with more than 20 orchestras and ensembles worldwide.
Next year, the prestigious Naxos label will release a recording of American chamber music performed by enhake. It will include Larsen's "Rodeo Queen of Heaven, not previously recorded.
"I recently received a contract to record the complete clarinet sonatas by the French composer Francois Devienne," said Won. It, too, will be on the Naxos label and will be distributed internationally.
In January, he will be giving solo recitals in Paris and London before traveling to Ghent, Belgium, for another performance.
"Won is extraordinary and unique in my experience as a teacher," said Professor Kowalsky. "He plays more concerts, travels more, does more clinics and master classes than any of our faculty. He is a brilliant performer."
---
By Zilpha Underwood