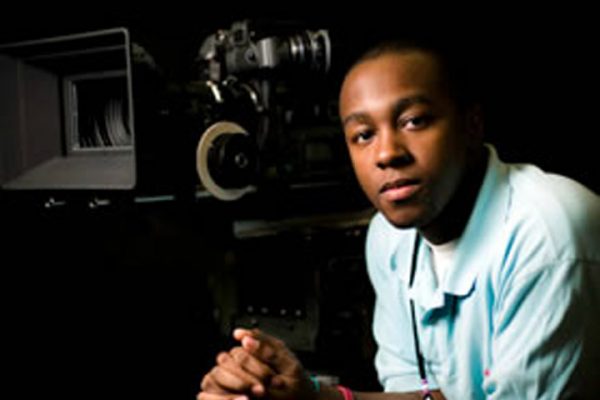 "There's no school in the country where a student gets the experience and training we get here (at the Florida State Film School)."
Tavarius Eberhart's career objective is simple. "I want to be a great filmmaker." The soon-to-graduate senior said Florida State's College of Motion Picture Arts has prepared him well to enter the highly competitive entertainment business.
"Florida State has the best film school in the nation," said Tavarius. "There's no film school in the country where a student gets the experience and training we get here."
An encounter with students from another highly rated film school justifies his point of view. "When I asked this student how many films he had made, he said he hadn't made any. I couldn't believe it. These guys were seniors!" said Tavarius. "They said at their university not everyone gets to make a film as an undergraduate. They have to apply. The projects have to be approved by a committee and only a few of them are chosen."
That couldn't be farther from Tavarius' experience. "It's part of the Film School curriculum to make films. I have produced five films at Florida State. … I don't think there is (another film school) where you have the opportunity make so many films."
"I've worked on more than 50 films while I've been here. … I've had experience with every part of the process," he said. "I've been director, cameraman, grip — even caterer," he said. "I've written screenplays, created music for soundtracks. Recently, I got to work on the first 3-D film made here," said Tavarius.
This fall, one of Tavarius' films was screened at the Clearwater Film Festival. "It's called 'In Our Closeness," said Tavarius. It's about two brothers, one 18 and the other 24, he said.
"They don't really know one another because the older brother has been in prison for years. The younger brother, who has never done anything wrong, feels a bond with his brother," said Tavarius. Ultimately, the younger brother has to decide whether to follow his brother or separate from him.
In both "In Our Closeness" and his senior project, "Finding Soil," the protagonist is faced with an ethical dilemma. The films share themes of responsibility, the meaning of family, need for connection and fear of abandonment.
"In Finding Soil," a man newly released from prison discovers he has a 7-year-old daughter for whom he suddenly has full responsibility. Homeless and struggling to find work, the father has to decide whether his child would be better off if he gave her up.
"Tavarius is a talented and creative filmmaker," said Professor Tony Ciarlariello, who supervised him as producer on student projects. "He is one of the leaders of the class (because of) his innate ability to motivate others and collaborate effectively."
Leadership skills are essential for a filmmaker, said Tavarius. "A film set can be a really intense place. You are dealing with a group of people who all have a vision, a dream," he said. "All of that energy has to be focused in one direction. … You have to be respectful of people to get their cooperation."
Tavarius is a member of the local chapter of Progressive Black Men, a national group committed to public service. He is a leader in the Sigma Lambda Beta International Fraternity, which fosters multicultural leadership and cross-cultural understanding.
Last year, Tavarius was one of the Florida State Film School students who swept a documentary film competition called Filmanthropy, sponsored by the Templeton Foundation. The filmmakers were challenged to make short films about organizations that transform lives in their communities. Tavarius' film was about Big Bend Homeless Coalition.
Up against film schools such as those at the University of Southern California and the University of Texas at Austin, Florida State students were awarded $54,500 of the $75,000 in prize money.
"I have had great professors at the Film School," said Tavarius. "The hands-on training you get here gives you confidence to go out and get a job in the industry and know you can do whatever you get thrown into. You can just get out there and work."
---
By Zilpha Underwood