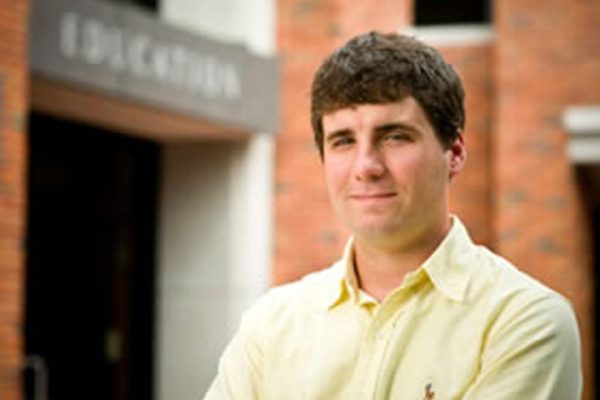 "By having someone care about them and being held to higher standards, the students have internalized success and have become better people with brighter futures."
When Joseph Simmons finishes up his graduate work in social science education this semester, he'll be in the market for a high-school teaching job. With opportunities in the wings, the question is whether he'll stay here in Leon County or head south to a more metropolitan city.
He's from Tampa and while his fiancée would have greater job opportunities there or in another large city, a Leon County Schools project he began leading last February seems to have a hold on him.
That project is 50 Large, which began as a gang-prevention program for at-risk youth. With Joe's guidance, 50 Large has become something more. "If we stay here, I can devote myself to the Leon County Schools and continue to make a difference in the lives of these young men," said Joe.
Larry Thompson, special-projects coordinator for Leon County Schools, "wanted to start a tutoring initiative (within 50 Large) and hired me to design the curriculum," he said. Joe had previous tutoring experience. "I had worked as a tutor at Kaplan (the test-preparation company) and with Florida State Athletic Tutoring," said Joe, whose undergraduate degree in education is also from FSU.
"(With 50 Large) I saw an opportunity for the College of Education to collaborate and contacted instructors who taught classes that required internships," said Joe. His plan was simple and would benefit both the at-risk kids and the education students.
The teens in 50 Large would get "quality tutoring from the Florida State students and Florida State students would gain real-life experience — and fulfill internship requirements," said Joe.
With the system in place, Joe now oversees the weekly one-on-one tutoring sessions. "A van picks up (the at-risk students) and drops them off at Florida State. … We use a room in the Stone Building (the College of Education building)," he said. "The staff and faculty have been extremely nice to the guys and are willing to cooperate with us."
The students are 11 to 19 years old. "Some have been held back in school. We have a 17-year-old who is in ninth grade. … The problem is they can't read (at acceptable levels)," said Joe. "It's demoralizing for them. Some of them decide not to try. Some stop showing up for school, and that's a perfect opportunity for them to get involved in a gang."
Are the young men difficult to deal with? "We have deportment rules and participation is voluntary. If (the teachers) are genuine and let them know they really want them to learn, they will listen to you," said Joe. "It's really amazing to me the effect of just knowing their names. Can you imagine? Just that one simple thing — something we take for granted — can make the difference in whether they learn or not."
Joe said he has seen positive change in most of the 50 Large students. "(Their) reading ability certainly has increased, but the change is so much more comprehensive than just the academics. By having someone care about them and by being held to higher standards, the students have internalized success and have become better people with brighter futures."
Although his work with 50 Large recently has been a huge part of his academic career, he has made an impact on Florida State in other ways as well. While in the master's program, Joe conducted a research project that analyzed the effect of students' county's socio-economic status on their Florida Comprehensive Assessment Test (FCAT) scores.
While at Florida State, Joe also honed a special skill that surely will pay off when he starts teaching — juggling. For two semesters of his undergraduate career, he was a member of The Flying High Circus.
Professor Helge Swanson knows Joe pretty well. "He has been in my classes off and on since he was a sophomore. … I have had the opportunity to observe his evolution from student to teacher. His intellectual and professional growth has been remarkable," said Professor Swanson.
"Joe already is an excellent teacher," said Professor Swanson. "His maturity and intellectual abilities allow him to work at a level well-beyond his years. Joe is the kind of teacher who will make a difference in his student's lives," he said.
It seems Joe already has.
---
By Zilpha Underwood