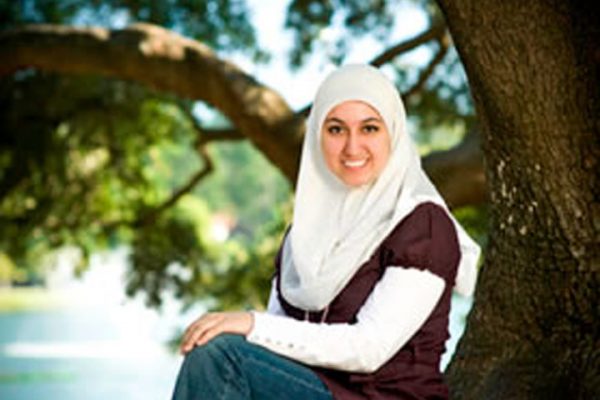 "One of my purposes in life is to break stereotypes and foster a better perception of Muslims, especially Muslim women who wear the hijab."
"I am the face of Florida State University. I am a proud Seminole," said Kany Aziz, senior pre-med biology student. The Tallahassee native and Muslim woman is keenly aware that many people see something else when they meet her.
Kany wears the tradition hijab worn by many — not all — Muslim women. "It symbolizes a woman's values. … Its physical purpose is modesty," she said. By de-emphasizing a woman's physical beauty, she will be valued for qualities more important and lasting — her intelligence and character, said Kany.
Her manner of dress hasn't been an issue for her at Florida State, she said, but she has encountered discrimination in her life. "The hijab often carries a connotation in society. One of my purposes in life is to break stereotypes and foster a better perception of Muslims, especially Muslim women who wear the hijab."
Intelligence and strength of character are unmistakable in this young woman — and you sense they come from a sense of self that goes beyond the external.
"I met Kany in my large introductory class on animal diversity," said Professor Walter Tschinkel. "She stood out from the sea of passive faces by being unusually engaged and by occasionally asking sharp, sometimes challenging questions," he said.
"Kany comes from an academic family and thus values intellectual activity highly," said Professor Tschinkel. "She is very good at it, far better than most of her contemporaries. She thinks and questions widely and is interested in many things, both science and non-science." With a 3.9 grade point average, she is obviously a gifted student.
The curiosity that drew Kany to Professor Tschinkel's lab and the self-confidence that prompted those sharp challenging questions are qualities her parents encourage in their children.
"I was in middle school on 9/11," said Kany. Her father responded to that horrific event by making a concerted effort to promote a positive image of Muslims. "He organized an open house at the Islamic Center," she said. "He encouraged me to be involved. … When I was 13 years old, I was standing up before crowds and speaking about our faith. I think that's why I have no fear of public speaking.
"I grew up in an academic environment," said Kany. Her father held various positions at Florida State and Florida A&M University. He was Coordinator of Academic Programs for the College of Engineering before leaving the university to establish the first science and technology university in northern Iraq. Kany's mother also was very involved academically, holding teaching positions at FAMU and Tallahassee Community College and creating the Islamic school program for the Tallahassee Muslim community.
Kany's parents met when they were both physics students at Baghdad University. Her parents' love story is one she delights in hearing them tell. It is a Romeo-and-Juliet tale with a happy ending.
"My father is Kurdish and my mother is Arab," she said. The idea of a romance between a Kurd and an Arab was unheard of to both ethnic groups. "They came from opposite worlds in all aspects, their ethnicity, their religious sect, their social status, and even their degrees of conservatism," said Kany. But they fell in love and married despite the challenges and ultimately left Iraq to find new lives in the U.S.
"My parents are wonderful," said Kany. "They balance one another. I have great gratitude for what they have done and how they raised us," she said.
As chairperson of the Muslim Students Association, Kany takes part in inter-faith dialogues and helps plan and organize events such as a cultural and fashion show that took place earlier this month and the annual Ramadan banquet. "Our events are fun for everybody, so we've gotten a lot of involvement from the student body," she said. "People are constantly asking me, 'When is the banquet?' They don't want to miss it."
Kany began doing a Directed Individual Study in Professor Jamila Horabin's lab in the fall semester of 2009 and will continue with research begun there throughout this year. "She is unafraid to learn about things that may be beyond her present level of understanding," said Professor Horabin.
Kany was awarded the Charles M. McAllister Endowed Scholarship and the John Mark Caffrey Scholarship Award for her research that examines the effect of temperature on the ability of fruit flies to develop a cell necessary for reproduction and compares the effect on mutated flies.
Next fall it is likely that Kany will begin medical school. She has applied here at Florida State. "My long-term goal is to open clinics in underdeveloped countries to train doctors by the American standard. Another long-term goal is to become a writer. I want to tell the story of growing up in post-9/11 America. … How I grew up to succeed."
---
By Zilpha Underwood