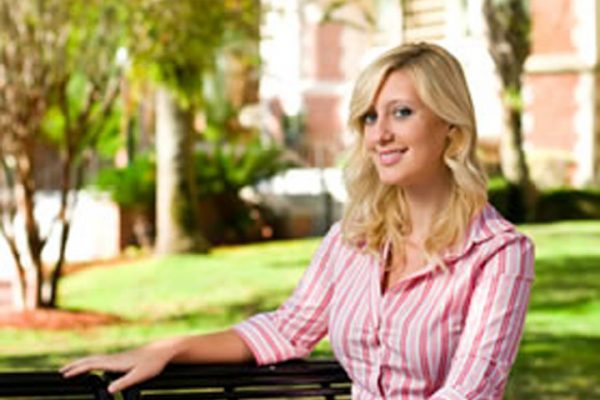 " want to be an advocate for morality in capitalism."
When she graduates this spring Jenny Mazer, university nominee for the 2009-10 Truman Scholarship, will be embarking upon a future far different than the one she dreamed of when she came to Florida State as a freshman to study business.
"Oh, my goals have radically changed," she chuckled. "My plan was to get a business degree and then become the owner of a ski lodge. I'd wear sweaters and drink hot chocolate," she said, clearly amused at her earlier ambition.
Her goal of studying business didn't change; she will graduate with bachelor's degrees in accounting and Honors in the Major finance. But these days her aspirations are even loftier than living on a mountain. "I want to try to make the world a better place. … I want to be an advocate for morality in capitalism."
What caused this change in direction? "Actually, I believe it was the volunteer work that caused the radical change." During the summer of 2008, while at home in Jacksonville, she worked as a volunteer financial counselor for the Navy Relief Society, a private non-profit charitable organization sponsored by the Department of the Navy to provide financial, educational and other assistance to members of the U.S. Navy and their families.
"I was shocked by the lack of financial education and fiscal mismanagement young people were experiencing," she said. Some were young parents who had credit-card debts they couldn't handle. Others were continually using payday lenders — and paying dearly for it. Many were in dire straights. The one unifying factor among those seeking help was a lack of education about money matters.
When Jenny returned to Florida State, she and friends started Students Advocating for Financial Education (SAFE). "We brought in speakers for discussions on financial issues relevant to students," she said. What was one of the biggest topics of discussion? Credit-card debt.
Success with that project led Jenny to write a proposal, based on SAFE, for Ernst & Young's "Your World, Your Future" competition. The accounting firm invites students to develop programs designed to make a difference in their communities' education, entrepreneurship or the environment. Jenny's proposal won in the category of education. The prize was $10,000 to be used to fund the project.
Professor Lora Holcombe said, "Jenny has really left her mark on Florida State. … She and another student, Andy Millett, founded the Florida State University Economics Club. Jenny wrote the by-laws, constitution and got it registered with the Student Government Association," she said.
"From there she didn't stop. She became interested in the economics of health care and founded Students for Healthcare Reform," said Professor Holcombe. "As the faculty advisor for both groups. I have watched Jenny as she took both from nothing to successful chapters.
"The Economics Club is vibrant with more than 100 active members," said Professor Holcombe. "SHR has spread to several campuses across the county, and it was started here at Florida State by Jenny," said Professor Holcombe.
Jenny's Honors in the Major project is an analysis of equity markets in 10 countries looking for trends that help explain the variation in price in initial public offerings. "I am interested in what causes these differences. Is it geographic area, stock listing requirements or legal environment?" she said.
In the summer of 2009, Jenny took part in Florida State's International Studies Program at the Cevro Institute for Political Studies in Prague, Czech Republic. "The study experience profoundly affected my understanding of government's ability to institutionalize large-scale violence," she said.
"We traveled to Austria, Poland and Germany. … The night before we visited the Auschwitz concentration camp I was very nervous, but I felt I had to do this," said Jenny. "None of us (the students) spoke while we were there. … It was a life-changing experience."
She has a job with the accounting firm KPMG awaiting her when she graduates this spring. "I plan to work as an auditor for a few years and get my Certified Public Accountant license before attending graduate school for a joint degree in law and a master's in business administration," said Jenny.
"I hope my career will allow me to be influential in making policy that fosters the freedom of U.S. markets, specifically through financial reform," said Jenny.
---
By Zilpha Underwood