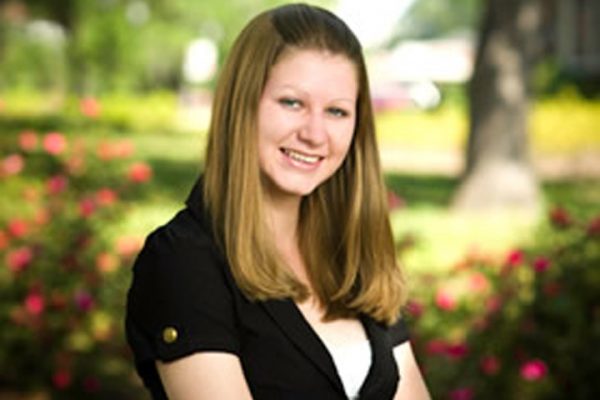 "(Appearing weekly on the 4FSU weather program) gives me an opportunity to do what I love to do, which is to talk about the weather and help people better understand the daily changes in it."
A hurricane sent Carrie Roller and her family packing the first time she visited Florida in 1995. "We were moving from Chicago and were in Melbourne house hunting. … We had to leave because of Hurricane Erin," she said.
Some people might consider that an inauspicious introduction to our state, but not Carrie, a junior meteorology student and recent winner of a National Oceanic and Atmospheric Administration Ernest F. Hollings Scholarship.
"I love weather, especially storms," said the young woman, who has experienced her fair share of extreme weather, including a Category 4 hurricane — Floyd — in 1999 when she was in elementary school.
"In 2004, there were three major hurricanes that affected us: Charley, Frances and Jeanne. We were out of electricity for three days after Frances. It was really hot and humid, and there was a lot to clean up after the storm." But the pounding of three major hurricanes in rapid succession and a few days of discomfort did nothing to dampen her enthusiasm for the weather.
"I've always wanted to be a TV meteorologist. When I was little I would hold my toy microphone and pretend I was giving the weather report," said Carrie. "I was doing that when I was four or five — even before we moved from Chicago."
"I like severe weather," she said. Why? "Maybe because it's an uncommon occurrence. … Thunderstorms and hurricanes are really exciting. I love the graphics and tracking maps."
Carrie chose Florida State for her education "after hearing about the strength and quality of its meteorology department," she said.
In April, Carrie learned that she had been awarded a prestigious NOAA scholarship that she had applied for through the Office of National Fellowships. The scholarship, including a paid internship for the summer prior to her senior year, provides educational and training experience in NOAA's science, research, technology, policy and education activities.
"I will get to choose a project to work on at one of the NOAA sites, which are all over the United States and its territories," she said.
At the end of May, she and other scholarship winners from around the country traveled to NOAA headquarters in Silver Spring, Md., for a weeklong orientation. Carrie is now trying to decide what sort of project she wants to do, which will determine where she goes.
"We were told that there are so many projects to choose from that just about everyone gets their first choice. … I hope to study severe weather events, but I don't know where that will take me," said Carrie. Wherever the project site is, NOAA will send her there for a site visit during winter break.
Carrie will return to the site to work on her project for nine weeks. Afterward, she will come home for a few days. "Then we fly back to Silver Spring to give a presentation of our project," she said. "I am very excited."
Carrie is a member of Alpha Gamma Delta sorority, the Phi Eta Sigma honor fraternity, and the Honors Program. She also appears on the 4FSU weather program every week during the school year. "It gives me an opportunity to do what I love to do, which is to talk about the weather and help people better understand the daily changes in it."
As exciting as her upcoming NOAA experience will be, Carrie is looking beyond this summer, "I am hoping that this internship will help prepare me for the world after college. At this point, I plan to attend graduate school and hope to get a job at a major TV network affiliate or with NOAA," said Carrie.
Don't be surprised if you turn on the television some day and see Florida State's Carrie Roller standing in front of a weather map explaining the mysteries of a storm.
---
By Zilpha Underwood