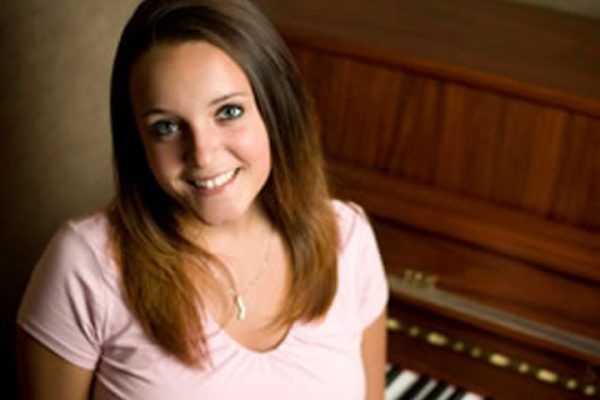 "(Performing at St. Peter's Basilica in Rome, St. Mark's in Venice and Santa Maria del Fiore in Florence) was an absolutely breathtaking experience."
When in Rome, Lauren Rizzo sang in St. Peter's Basilica.
In Venice, the venue was St. Mark's and in Florence it was the Basilica di Santa Maria del Fiore. Visiting these architectural masterpieces is a mind-blowing experience for travelers. Imagine how a young musician might feel performing in those hallowed spaces.
"It was an absolutely breathtaking experience," said senior Florida State music-education student Lauren Rizzo, who, in March, performed with the University Singers during a nine-day tour of Italy.
"The acoustics were incredible — after the choir would cut off, our sound would echo inside of the churches for several seconds," said Lauren, who was then president of University Singers, Florida State's premier auditioned choir. "It was amazing to perform in places where the musicians who shaped Western classical music performed," she said.
Lauren is spending her last semester working as an intern with a chorus teacher at Cypress Bay High School in Weston, Fla. "I basically help teach and manage every class, trying to learn as much as possible about being a chorus and music teacher. … I'm learning a lot."
Music-education instructors Dr. Kevin Fenton and Dr. Judy Bowers, among others, prepared her well for this semester's experience, said Lauren.
"Lauren is very passionate about those things in which she invests her time. … I believe she will become an outstanding music teacher who will broaden the world of her students," said Dr. Bowers. "I'm sure she will commit herself to leadership within the profession, much as she has done as an undergraduate at FSU."
Since she was a high-school junior, Lauren has known she wanted to pursue music education. In fact, she remembers the moment of realization. "We were doing the musical 'Grease,' and my chorus teacher asked me to teach the cast the song 'You're the One That I Want,'" said Lauren. "I taught the chorus first, teaching each section its notes. When they seemed to be catching on, I let them sing without my help. They sang their parts beautifully."
"They learned from me … I had made beautiful music, not by using my voice, but by teaching others how to use theirs. It was the coolest thing, and it keeps me going to this day," she said.
Lauren came to Florida State because "it has the best music program in the Southeast and one of the top music-education programs in the nation," she said. Lauren soon discovered that the life of a College of Music student is no picnic at the beach. "It's tough," she said.
How so? "We have several one-credit-hour classes that require as much work as a three-credit-hour class. … We are required to be in ensembles every semester that can meet twice to five times a week. We attend biweekly seminars to perform in and listen to our peers perform. … We must attend 15 concerts a semester. On top of all that, we have to find time to practice for private lessons, the ensembles we're enrolled in, piano or guitar lessons and conducting.
"The biggest challenge is getting everything done. … It's easy to feel overwhelmed. … I am proud of myself for surviving, and I feel very prepared to be a chorus teacher," said Lauren.
Demanding as her academic life has been, Lauren has made the Dean's List every semester. She has served on the College of Music Board of Advisors and was president of University Singers and Chorus Student Affairs. She is an alumna of Sigma Alpha Iota, a professional music fraternity for women.
She's co-founder of Florida State's 30in60, a comedy troupe inspired by a performing group in Chicago. She was the music director for Leave Your Mark Productions' "A Funny Thing Happened on the Way to the Forum" and Quincy Music Theatre's production of "Meet Me in St. Louis."
The intensity of the music-education program, the focus of Lauren's extracurricular activities, the heady experience of performing in Italy and this semester's teaching internship describe a remarkable undergraduate experience.
"I made it my goal to give my all to everything I love here at Florida State," said Lauren. "I absolutely cannot wait to go out into the world and inspire children to become musicians themselves."
---
By Zilpha Underwood