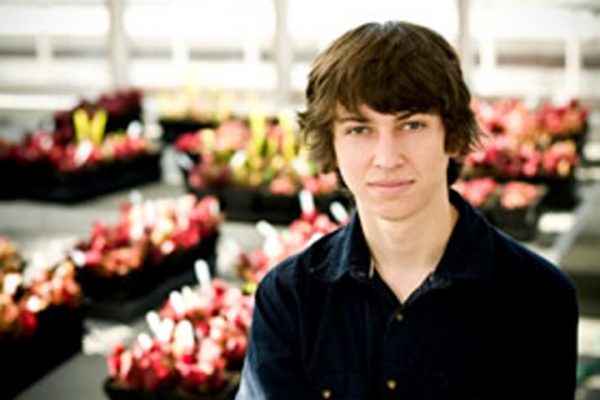 "Having professors who were willing to take on a freshman inspired my interest in research science."
You wouldn't expect a nature-loving fellow like John Mola to spend his summer setting fires, but that's what he did. The senior majoring in environmental studies wasn't playing; he was doing serious research.
"I had a National Science Foundation grant to study the flammability of leaf litter from Torreya State Park," said John. "I spent 10 weeks doing research in the fire-ecology lab at Humboldt State University in Arcata, Calif."
Obviously, fire research poses inherent challenges for a scientist — one of those challenges being controlling the fire and the environment so that accurate measurements can be made. This sort of research must be done in a specially equipped facility. There are only three schools in the nation that have a true fire lab — and all three are in the western U.S.
So, with a Research Experiences for Undergraduates award from the NSF and bags of litter from the rare Torreya and other North Florida trees, John traveled across the country. "The fire lab is very cool," said John. "And I got to work with Dr. Morgan Varner," one of the top fire scientists in the world.
"The North Florida ecosystem is the habitat for one of the rarest species in world — taxus floridarum or the Torreya tree." John, who is from Tampa, said one of reasons he decided to attend Florida State was the biodiversity of this region. "The Florida Panhandle is one of the top biodiversity hotspots in the United States," he said.
As soon as John arrived on campus as a freshman, he went looking for an opportunity to do research. "I immediately began working with biological sciences professor Dr. Tom Miller doing field research on pitcher plants," he said. "Having professors who were willing to take on a freshman inspired my interest in research science," said John.
Dr. Anthony Stallins, with whom John is doing research on pollen preferences of the honey bee through the seasons in urban, rural, suburban and natural environments, believes he has an aptitude for research.
"John is refreshingly curious. He has a roaming intellect that looks for connections. … I have been in the field with him on several occasions. He is relaxed yet rigorous with detail."
During his time at Florida State, John has been an advocate of reasonable drug policy. He is administrative director of National Organization for the Reform of Marijuana Laws /Students for Sensible Drug Policy.
"SSDP has worked with Healthy Campus to restructure alcohol policy to reduce underage drinking, high-risk behavior and the harms associated with drug and alcohol abuse — and the harm caused by destructive drug policy," said John. "SSDP is an organization that says 'yes to sensible drug policy.'"
"We would like to see the Good Samaritan Policy adopted on campus," he said. The idea is that students should know they will not suffer sanctions if they intervene on behalf of someone who has overdosed on drugs or alcohol. "We want students to know they won't get in trouble if they try to help someone."
John will graduate in the spring. "I plan to attend graduate school in the field of conservation biology," he said. "I have a strong desire to work toward preserving the world's biodiversity. … After graduate school, I would like to hike all 2,600 miles of the Pacific Coast Trail."
And, he has some advice for his fellow students. "Go hiking! There's a whole beautiful national forest right down the street."
---
By Zilpha Underwood