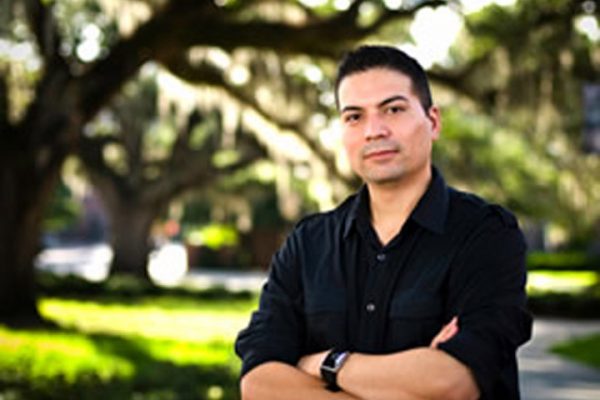 "Dr. Bolaños has been instrumental in my success as a graduate student by being a great role model."
Since coming to Florida State to earn a Ph.D. in neuroscience in the department of psychology, Sergio Iñiguez has racked up an astonishing list of accomplishments.
"Sergio joined my laboratory in 2007, and he has been outstanding in every respect. … He is an awesome and rare student," said his mentor, Dr. Carlos Bolaños.
In 2008, Sergio applied for three significant fellowships. "(He) got all three," said Dr. Bolaños. They were from the National Institute on Drug Addiction, the Ford Foundation and the American Psychological Association. "This accomplishment is more remarkable when realizing how competitive the funding climate is these days."
Unable to accept all three, Sergio decided upon the National Institute on Drug Addiction fellowship. "I was awarded a three-year grant to study the neurobiology of antidepressant exposure during adolescence using male rats as an animal model," said Sergio.
Sergio has won other fellowships during his time here — including support from the Program in Neuroscience at Florida State and the state of Florida's McKnight doctoral fellowship. He also was named a Neuroscience Scholar by the Society for Neuroscience. It, too, is a three-year grant. "It provides a stipend for enrichment activities and financial support and travel expenses to attend the annual conference," at which he does a presentation for his colleagues, he said.
As if that weren't enough, Sergio has written or co-written 12 research papers in top-tier peer-reviewed science journals.
Sergio was accepted for the Ph.D. program at several schools. "I chose the interdisciplinary neuroscience program at Florida State for many reasons," he said, "but foremost, I was interested in a small program where a great deal of focus was placed on research and mentoring."
He wanted to work with Dr. Bolaños "because his research interests match my own."
As a Neuroscience Scholar, Sergio has worked with other exceptional scientists around the country. He spent the summer of 2008 at the University of Texas Southwestern Medical Center's psychiatry department studying with Dr. Eric Nestler, a leading scientist in the field of drug addiction and depression. The following spring he traveled to New York City to work at Mount Sinai School of Medicine. "I worked with Dr. Scott Russo learning molecular biology techniques," he said. During the summer of 2009 he participated in the neuroscience program at the Marine Biology Laboratory in Woods Hole, Mass.
Of course, all these accolades come at a price. "I work all the time. I work every day of the week, but I'm not on a set schedule. I might work from 9 a.m. to 9 p.m. and sometimes it is very hard, but I love what I am doing. It's my passion," said Sergio.
Sergio possesses a joyful enthusiasm you might not expect of a person so dedicated to his studies. Focused as he is, the hard-driven student knows how to slow down occasionally.
"My morning walks across campus to get a cup of coffee with my mentor remind me how fortunate I am," said Sergio. "Dr. Bolaños has been instrumental in my success as a graduate student by being a great role model. … He has shaped my academic career development."
Dr. Bolaños said Sergio has become an important member of his laboratory. "He is highly personable and cheerful," said Dr. Bolaños. "He is always willing to help and train undergraduate students in the lab. He is a wonderful young man. … (He) is bright, highly skilled, curious and inspired. … I consider him to be in the top one percent of our graduate students at his level."
After earning his Ph.D., Sergio said he "is planning to do postdoctoral research in a university laboratory focused on mood-related disorders."
He has his mentor's vote of confidence. "I strongly believe Sergio will do very well as a research scientist in an academic setting," said Dr. Bolaños.
---
By Zilpha Underwood