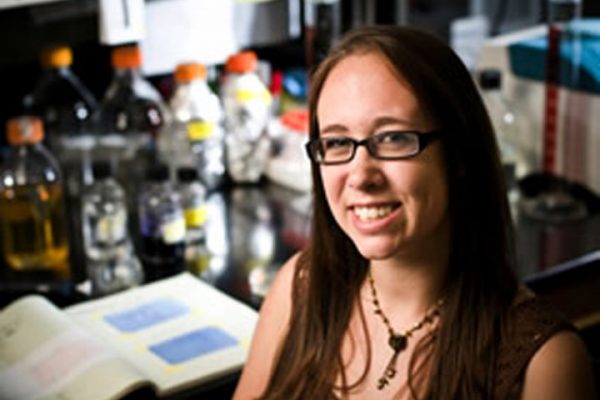 "I was shocked (by being awarded a Goldwater Scholarship). I have no words to describe how I felt when I got the news."
Before classes had begun at Florida State University in the fall of 2008, incoming freshman Kristen Ramsey — now a 2010 Goldwater Scholar — had contacted Dr. Brian Miller, assistant professor of chemistry and biochemistry, to ask if she could come to work in his research laboratory.
It was obvious to Dr. Miller that Kristen had prepared for the interview. Not only had she done significant background reading about his research, but "she displayed a level of understanding that is rare for students just beginning their undergraduate studies," said Dr. Miller.
"She was sufficiently versed in my research endeavors to express her interest in a particular project in our laboratory — the investigation of human glucokinase, an enzyme involved in maturity-onset diabetes of the young."
Kristen's initiative paid off. Dr. Miller accepted her and she began working in his lab during the first semester of her freshman year. While undergraduate research opportunities abound at Florida State, it's not common for a student to become involved so early in her college career.
When you learn that Kristen graduated from high school in three years — that she was a year younger than her fellow freshmen — you begin to realize how remarkable Kristen is and why she recently was awarded a Goldwater scholarship.
Goldwater scholarships are given to outstanding sophomore and juniors studying mathematics, science and engineering. The award of up to $7,500 is to be used for tuition and other college expenses.
Craig Filar, director of the Office of National Fellowships, encouraged Kristen to apply for the scholarship. While she thought it unlikely she'd be chosen for the scholarship as a sophomore, it would be good experience to do the writing required to apply. She could always try again as a junior. That won't be necessary. As a Goldwater Scholar, Kristen will receive up to $7,500 annually for the next two years.
"I was shocked. I have no words to describe how I felt when I got the news," she said.
Dr. Mioara Larion, a post-doctoral fellow in Dr. Miller's lab, trained Kristen in the basic experimental procedures necessary to conduct research there. "Within a week of her starting date … I was able to give her tasks, convinced that she could accomplish them," said Larion. "Since the day I met Kristen, I am still being surprised every day by her scientific growth."
Kristen radiates a joyful enthusiasm when she talks about her work in the lab and her hopes for the future. "I spend long hours there, but it doesn't feel like work. It feels right to be in the lab. I'm very comfortable there," she said. It seems ironic that her success in the lab has prompted her to give up a lifelong dream.
"From the time I was four years old, I wanted to be a doctor," she said. "When I was 11, a friend's little brother was diagnosed with leukemia. I was close to my friend's whole family and was very disturbed by (his illness). It really cemented my intention to become a doctor." She carried the resolve to become a physician with her to Florida State. But things don't always turn out as planned.
Kristen's desire to help people with cancer has not waned, but she has become convinced that she can do that best from a lab. "I realized I'm all about research," she said.
Dr. Miller approves of her decision. "Kristen has enormous potential as a research scientist," he said. "She aspires to become a leader in the biomedical sciences, and I see no reason why she cannot attain this goal. … I expect great things from her."
---
By Zilpha Underwood