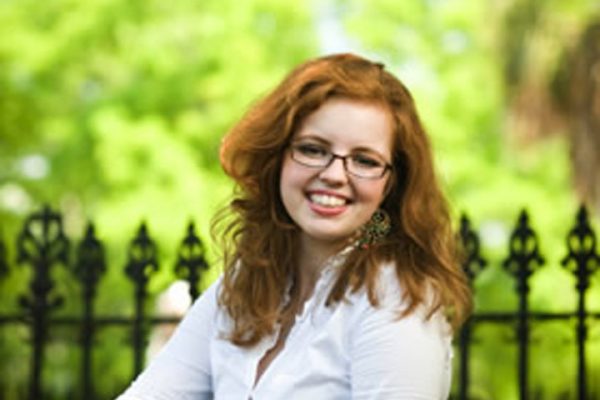 "I have been awarded an Undergraduate Research and Creative Activity Award … to complete my first book of poetry, which rewrites fairy tales with pop-culture references."
"She's a creative powerhouse," said Barbara Hamby of her former Florida State student, Joni Wildman. That's quite a tribute for a young writer. Hamby is, after all, a prize-winning poet with an international reputation, the recent recipient of a Guggenheim Fellowship and a woman of enormous creative power herself.
Joni, a junior working on degrees in creative writing and Honors in the Major in studio art, is no dabbler. She is an artist as committed to painting as she is to poetry. "A lot of students want to be writers, but they don't have the ferocious work ethic that it takes to make something new and beautiful. Joni has that and more," said Hamby.
Hamby was impressed by a piece Joni wrote for her poetry-writing class and suggested that she might expand upon it. Joni played around with the idea until she had spun it into a bit of golden thread. "I have been awarded an Undergraduate Research and Creative Activity Award from the Office of National Fellowships to complete my first book of poetry, which rewrites fairy tales with pop-culture references," she said. … My book will be about 60 pages. … I hope to have it published by the end of 2011," she said.
Joni brings together a spectacular cast of characters — including Ariel, Disney's Little Mermaid, Divine, the late actor who specialized in women's roles and Anna Anderson, the Polish factory worker who claimed to be the Grand Duchess Anastasia of Russia — to create her dark, funny and ironic poems.
The poem that got the ball rolling is "Red's Suicide Note (found in a toppled basket of snicker-doodles, addressed to Granny)."
The "Red" of the title — no other than Little Red Riding Hood — is thinking of ending it all after she discovers her husband, Elmer Fudd, is having an affair with Granny.
After berating her grandmother over the betrayal and making fun of Elmer's speech impediment, Red writes: "I'm flaming out/ with a bang, and Fudd usually misses,/ but shot through the heart, I'll climb/ on this basket of cookies and kick./ I'll fall like a shot duck and dangle; a red flag/ in the woods, a sign that Red was raised by wolves."
Joni's talent was rewarded again when she was accepted for the highly regarded Sewanee Writer's Conference at the University of the South in Sewanee, Tenn. "It was an amazing experience. I was there for 12 days working with poets like Allen Shapiro and Mark Strand," said Joni.
Joni is every bit the visual artist that she is writer. While still in high school, Joni taught children's art classes and earned money from commissions she landed for her work, especially the whimsical murals she creates for children's rooms.
Joni is fortunate to have top-notch mentor in visual arts. Mark Messersmith, whose large paintings of North Florida flora and fauna seethe with life and menace, is Joni's advisor for her Arts in the Major thesis.
"Joni creates because it is her passion," said Messersmith. "One only needs to show her new options and possibilities, and she naturally moves her work in a direction of increasing richness and meaningful self-expression."
You can see Joni's work on First Fridays at Railroad Square in Florida State's BFA warehouses. "I sold a painting to Robert Olen Butler at a First Friday," she said. The sale thrilled Joni, who admires Butler after taking two classes with him. Butler, Barbara Hamby and her husband, poet David Kirby, had come out to show their support for Joni.
Somehow Joni finds time to reach children's art classes in Gadsden County on Wednesday afternoons. Last year, Joni put together a juried art competition that was part of the Project Strength Women's Festival.
After Joni graduates in the spring, she plans to begin work on a Master's of Fine Arts. And then what? "I know I will continue to paint and write no matter what. I'll find a way."
---
By Zilpha Underwood