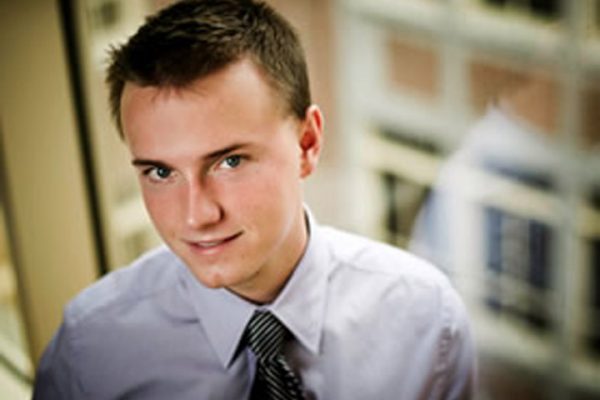 "My eventual goal is to become a professor of comparative literature, so that I can help shape future scholars the way the professors at Florida State have shaped me."
Michael Shea didn't embark on his academic career at Florida State with the goal of maintaining a perfect 4.0 grade point average. It just happened, sort of.
"After a couple of semesters of having (a perfect GPA) I started worrying about not making it the next time. … I guess I was putting pressure on myself to keep it going, and so far, I have," said the senior majoring in English literature and philosophy.
A love of learning makes Michael tick. After three years at Florida State, he has enough credit hours to graduate early, but he's sticking around, "because there are so many classes I want to take. … I plan to spend the full four years here," he said.
For a true scholar like Michael, it makes perfect sense. He will begin his Honors in the Major thesis this semester, he has been getting poetry published, and he has been working on an absorbing research project.
Since last fall, Michael has been a research assistant for English professor Dr. Stan Gontarski on a project called "Fifty Years of 'Civil Rights' in Tallahassee, Florida, with the Stephens Sisters."
Through Dr. Gontarski's friendship with Barney Rosset, former longtime owner of Grove Press, he came into possession of taped interviews with Patricia and Priscilla Stephens, FAMU students who had been in the thick of the civil-rights struggle here.
"When the Stephens sisters toured the country in the early 1960s giving interviews about the formation of the local CORE (Congress on Racial Equality) chapter and the civil-rights struggle in Tallahassee, Barney Rosset broadcast two days of interviews with them on New York radio. Until recently those interviews had been lost," said Dr. Gontarski.
"Michael has been transcribing, annotating and generally explaining the details … on the tapes," he said. And he has gone on to do "independent research at the highest level," said Dr. Gontarski.
As part of that independent research, Michael tracked down and interviewed four of the surviving five people jailed in Tallahassee in 1960 for participating in lunch-counter sit-ins.
"I wish that my graduate students could conduct independent research on such a high level — research for which the publication potential is very high," said Dr. Gontarski.
"I have been fortunate to have worked with some of Florida State's finest undergraduates. … Michael is one of those students. … One really doesn't teach him. One makes suggestions, offers encouragement and he is off and running, reading far beyond one's suggestions and making intelligent, fresh connections of his own," he said.
Michael sees a connection between what has learned through the research project and his intense interest in contemporary American literature. "Either directly or indirectly, the civil-rights movement informs so much of the literature of the '50s and '60s," he said.
As a sophomore, Michael was hired to be a resident assistant in Wildwood Hall. The following year he was an R.A. in Broward Hall. He took these jobs as seriously as he does his studies. "I wanted to be one of the people who make Florida State feel like home, the way I felt when I first visited."
Last fall Michael was a Freshman Interest Group leader working with 23 pre-law students. Through the FIG program, first-year students can explore a course of study of interest to them. As a leader, Michael conducted a weekly colloquium class. "I tried to help them become acclimated to the academic community through a mixture of classroom discussions, written reflections, and excursions in and around campus.
"I think the communication skills I had to develop to be a successful R.A. and FIG leader will help me when I become a professor," he said.
So what exactly will Michael do after he graduates in the spring? "I plan to apply for a Fulbright Fellowship to teach English in Argentina," he said. He plans to enroll in creative writing program and earn a master's of fine arts. Michael wants to be a widely published poet.
My eventual goal is to become a professor of comparative literature, so that I can help shape future scholars the way the professors at Florida State have shaped me."
---
By Zilpha Underwood