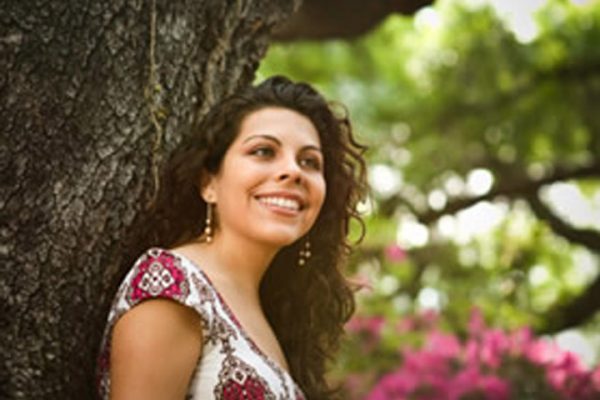 "I am eager to be part of the solution to the global energy crisis by discovering efficient ways to produce energy while minimizing the negative impact on the environment."
Karina Subieta has a scientific mind and a compassionate heart. She describes herself as "eager to be part of the solution to the global energy crisis by discovering efficient ways to produce energy while minimizing the negative impact on the environment."
"(She) is a talented student who wants to make a difference to society. This is what I think drew her to research in renewable energy," said Dr. Subramanian Ramakrishnan, who was her faculty mentor this summer.
The chemical engineering senior said the opportunity to work with Dr. Ramakrishnan "helped me develop the project for which I had the honor of receiving a 2010 Undergraduate Research and Creative Activities Award from the Office of National Fellowships."
Essentially the research going on in Dr. Ramakrishnan's lab is concerned with finding highly efficient ways to break down cellulose to produce biofuels. "Current research in his lab has demonstrated that N-methylmorpholine-Noxide (NMMO) is a good solvent for dissolving cellulose," said Karina.
Karina is analyzing the yields of sugars, such as glucose and cellobiose that are produced from enzymatic hydrolysis of biomass after pretreatment with NMMO and analyzing its effect under various conditions. "The composition of the enzymatic hydrolysis reaction mixture is critical, because it greatly influences how microbes will (make use of) these sugars to produce biofuels," she said.
Karina's activities extend beyond academics. During the 2009-'10 academic year, she was president of Volunteers at FSU, an organization that finds and schedules community service opportunities. She encouraged students to "become part of a force for change through community service to help solve problems like hunger and homelessness."
Because Karina's parents are from Bolivia, "they made it possible for me to travel there every other year so I could experience the Bolivian culture," she said. "I have seen the faces of hunger, poverty and the plight of the majority of Bolivian people living in poor conditions.
"These experiences have sown a deep passion in me to do well in school and continue my education in graduate school. They also have influenced my desire to enter a career in which I can research and create technology that will better meet the needs of people around the world and make an impact on their quality of living."
Karina's undergraduate work has set the stage for that dream to be realized. In addition to her chemical engineering research she also has done research in the field of nanotechnology.
"I had the privilege of being accepted into the Nanotechnology Concepts, Opportunities, Research and Education program — or NanoCORE — at the FSU-FAMU College of Engineering during the summer of 2009," said Karina. NanoCORE, which began less that a year ago, was designed to introduce aspects of nanoscale science and engineering into the core undergraduate curriculum.
"I researched available literature on nanotechnology with an emphasis on common types of nanomaterials, their applications, and risks they may pose to the environment and health," said Karina.
Dr. Amy Chan-Hilton was her mentor professor for this project. "It was a pleasure to interact with Karina, supervise her research activities and watch her develop as a researcher and scholar," said Dr. Chan-Hilton.
"Not only did Karina quickly learn nanotechnology basics, (but) she was able to identify and wade through a large quantity of relevant literature in a short period of time, which is not an easy task for an undergraduate — or even a master's student," said Dr. Chan-Hilton.
Karina was inducted into the engineering honor society, Tau Beta Pi, in 2009. Since spring 2008, she has been a member of the Florida-Georgia Louis Stokes Alliance for Minority Participation. "It is a National Science Foundation project whose goal is to encourage and support minority students pursuing careers in engineering, mathematics, science and technology."
With graduation from Florida State just a year away, Karina hasn't settled on a plan for her next step. "I might travel and work in Bolivia during the spring and summer of 2012, then start grad school in the United States in the fall," she said.
---
By Zilpha Underwood