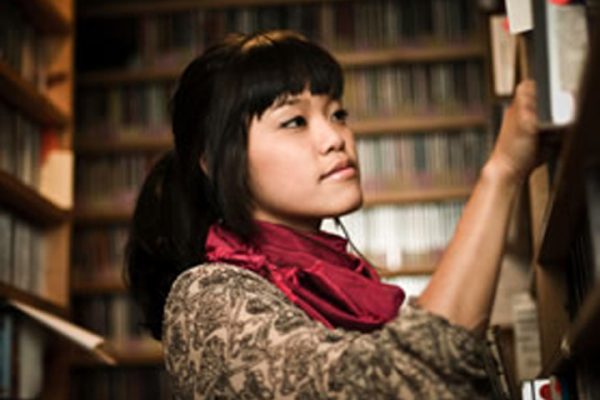 "I went to the Philippines to interview World War II veterans to do an oral-history project about the Rescission Act of 1946."
Alexis Diao circumnavigated the globe this summer.
By the time the Florida State University senior returned to Tallahassee, she had flown so far to the east that it had become the west. This was no lark. The purpose of the trip was to travel to the Philippines to gather material for her Honors in the Major thesis in American Studies. After a month on the project, she traveled on to San Francisco and Washington, D.C., for research.
"I went to the Philippines to interview World War II veterans to do an oral-history project about the Rescission Act of 1946," she said. "It will take the form of a 'podumentary' — a mixed genre between podcast and documentary." The Undergraduate Research and Creativity Award given by the Office of National Fellowships made the trip possible.
But a bit of little background, please. What's the Rescission Act of 1946, anyway?
When it became apparent that a war was brewing in the Pacific, President Franklin Roosevelt ordered Filipino soldiers into the service of the U.S. armed forces. Because the Philippines was then a commonwealth of the United States, Filipinos were American nationals, meaning they were citizens of the Philippines but were accorded protection by the United States.
"The soldiers were promised full veterans' benefits and status," said Alexis. "But in 1946, after the war had ended, Congress passed the Rescission Act, which denied the Filipino soldiers those benefits."
Finally, in 2009 the Rescission Act was reconsidered. "Surviving Filipino veterans each were paid a lump sum of $15,000," she said. But surviving veterans were not extended full veteran benefits such as health care. Heirs of Filipino veterans were paid a $9,000 lump sum.
It is estimated that more than 200,000 Filipinos fought for the United States in World War II and that half of them died in battle.
"I wanted to know how they felt about the United States," said Alexis, whose grandparents were born in the Philippines. "I'm Filipino, so I think this is important."
Once in the Philippines, Alexis' challenge was to track down surviving veterans able and willing to talk to her. "I was staying mostly with family. I just tried to get the word out about what I was doing. I also got in touch with the Philippine Veterans Office. … At first it was hard to find veterans, but then it just snowballed."
Did she find these survivors to be angry about the way that they had been treated? "Sometimes I detected a tinge of bitterness," said Alexis. "But the Philippine people are resilient, and the war was a long time ago. I don't think it would be in their nature to hold onto their initial disappointment."
"One man said, 'We would have been fighting anyway to defend our islands,'" she reported. Japan invaded the Philippines in 1941. "Some of the veterans would talk and talk. It seemed to be therapeutic for them."
"My findings and impressions will be produced in a podcast-esque documentary, and will eventually be posted on my blog 'Navigating the Storm' (Meowdiao.wordpress.com). The final defense of my thesis will be in December," said Alexis.
Approaching her thesis as a news reporter would a story — and her decision to create an oral-history project with the information she collected — is no accident.
"I have wanted to be a reporter for as long as I have wanted to be anything." Florida State has given Alexis opportunities to experience that role. "I worked for a year with WFSU — from the spring of 2009 through the spring of 2010 as an intern reporter. "During the 2008 legislative session, she worked as a reporter for WFSU's "Capital Report." Last fall she interned at the National Public Radio headquarters in Washington, D.C.
Alexis also has worked at the university's student-run radio station WVFS — or V89 — since 2006, the summer after she graduated from Tallahassee's Lincoln High School. That's when she met one of her mentors, Michelle Laurents. "She became a student of mine. … I teach nearly 1,000 students a year and work with another 200 at the radio station, and Alexis stands out," Laurents said.
In addition to working at the radio station for her entire time at Florida State, said Laurents, "Alexis has worked with the Filipino Student Association, contributed to local publications, taught karate with her father and worked part time at a book store. … And she's done all this while maintaining a position on the Dean's list."
Alexis has worked part-time jobs while in school. She said it is important to her to do things outside of the university.
Alexis will graduate in December. She knows this isn't the most auspicious time to begin a career in journalism, but isn't discouraged. "Journalism increasingly is becoming a more entrepreneurial field," she said. She is hoping to continue her work in public broadcasting.
Laurents has no doubt that her student can make her dream of a career in journalism come true. "Alexis wants to make a difference. She is a willing participant. She is a critical thinker," said Laurents. "She communicates thoughtfully and responsibly. She is quick, capable, funny, smart, beautiful and hardworking. Her potential shines through."
---
By Zilpha Underwood