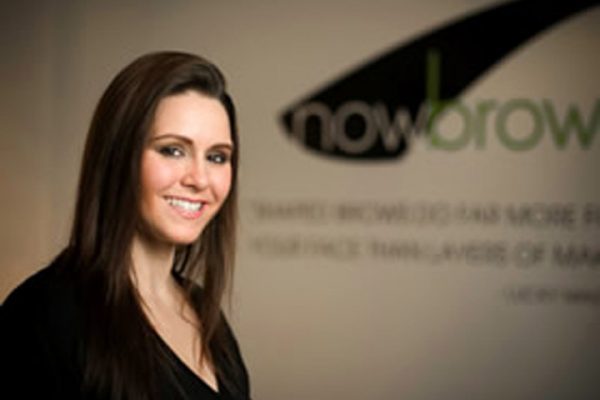 "I feel like a walking advertisement for all that Florida State can afford a student."
Brittany Jones graduated this spring with a double major from the College of Human Sciences in Retail Merchandising and Textile Science with a minor in Business, but she's sticking around campus — and for good reason. A project she has been working on for more than a year not only has raised people's eyebrows, it has become her full-time job.
"NowBrow … is the first student-developed, student-run and student-launched business on campus ever," said Brittany, with obvious pride. She has been working for NowBrow since April. The business opened the Student Union salon in February and one in Governor's Square in March.
The salons are devoted to sculpting eyebrows to suit the client's eyes and the shape of her face. "We want to make women feel beautiful and to have that ideal brow," she said.
Brittany's enthusiasm for the business — and for her alma mater — is impressive. "I feel like a walking advertisement for all that Florida State can afford a student," she said. "I am forever indebted to the (university) for the incredible learning opportunities it has provided me."
One of those opportunities presented itself in March 2009. That's when Tom Petrillo, a Florida State alumnus and the president and CEO of The Salon People, Inc., came to the Center for Retail Merchandising and Product Development's annual retail summit to give a presentation about a new venture he had in mind. He said he was looking for 10 student volunteers to plan and start up NowBrow salons as a viable business.
Brittany was excited about what he was proposing, but that didn't stop her from grilling him. "I asked him a lot of hard questions. … I was very excited about his idea and knew I had to be part of it," said Brittany.
Petrillo is a major player in the beauty business in Florida. His company is the sole supplier of Aveda beauty products in the state. Aveda is one of the top manufacturers of hair and skin products in the country. His company also owns all of the Aveda beauty schools in the state.
Brittany was one of the students Petrillo selected from the many who applied for the project. These students were to develop a concept for the business, manage its finances and come up with marketing strategies and a timeline for getting the business off the ground. "We even designed the packaging and logo," said Brittany. Each month Petrillo met with the group to mentor them and monitor their progress.
"I learned a lot from Tom Petrillo. He's the company's CEO, but he let us feel ownership for the project," said Brittany.
Dr. Susan Fiorito was impressed by Brittany's ambition and zeal for learning. "Brittany is a student with a thirst for information. She drives herself hard to be the very best at what she does and in turn challenges all around her to their best," said Dr. Fiorito. "She is also a very giving person, whose service to others is admirable."
Brittany channeled some of her energy into her work as president of the Florida State chapter of the American Association of Textile Chemists and Colorists. "I increased our membership from four to 65 in less than two semesters." AATCC is a non-profit professional association for textile design, manufacturing and testing. The Florida State chapter supports a program for women in need with food and clothing and gifts for their children.
"We (AATCC) got $3,500 from the Student Activities Office that we used to take 15 students to Philadelphia for the Arts of Fashion Symposium," said Brittany. "It was a phenomenal amount of work to organize the trip, but it was a great experience."
Brittany is a member of Kappa Omicron Nu, the national human-sciences honor society. As the community service officer of Collegiate Merchandisers Association last year, Brittany developed a project to pair students with foster teens who were about to become too old to stay in the foster-care system. "We helped them with help writing resumes, cover letters and job applications," she said.
"I have taken advantage of every opportunity that has come my way during my time at Florida State. I think I am prepared for a fabulous career," said Brittany.
---
By Zilpha Underwood