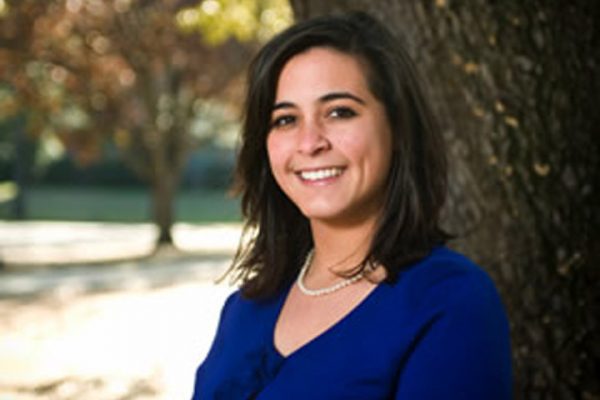 "Nothing would satisfy me more than to see the 3 billion people living on less than $2 a day vanquish their immense poverty."
As she begins her junior year at Florida State, Profiles of Service Award winner Asimina Boutzoukas has accomplished more than many students have by the time they graduate. "I quickly became active in service at Florida State through the Service Scholar Program and the Service Leadership Seminar," she said. "Those programs molded my character and gave me outlets for my passions."
Her character and her passions are clear, and her academic and service goals intersect. Majoring in economics and international affairs, she intends to work to overcome poverty around the globe.
Profiles of Service Awards are sponsored by the Division of Student Affairs and the Center for Leadership and Civic Education. Students selected for this honor have shown outstanding commitment to community service. Asimina — or Simi, as her friends call her — certainly fits that criterion.
During the fall of her freshman year, Simi served as secretary for the university's Student United Way. The following semester she was elected its president, a position she still holds. "The Student United Way gives students experience in running a non-profit," she said. "Events are planned, funds are raised, service is provided to the community. … This fall the Student United Way will allocate $10,000 to student organizations for service in the Tallahassee area."
Also during her freshman year, Simi was on the operations committee for the university's first Big Event, a one-day, student-run service project aimed at giving back to the local community. Students and faculty show their gratitude for the community's support by doing service projects around town. And, continuing to pack that year with service to others, she was on the Women's Issues Committee for Without Words, a social-justice awareness program. Somehow, she also found time to mentor a student at Ruediger Elementary School — and to make the Dean's List, as she has continued to do every semester.
"Simi is an exceptional student and is committed to working hard," said Doug Norton, from whom she took an economics class last semester. "One of the things you notice about her … is her love for others. She listens closely to what others have to say. … She is very genuine," he said.
In January, Simi implemented an idea she'd hatched the previous April. "I learned of the 'Krispy Kreme Challenge,' a successful event at another state university, and decided that the Student United Way would start a new tradition at Florida State. "
Last spring, she was an intern in Gov. Charlie Crist's Office of Legislative Affairs. "I worked 15 hours a week tracking priority legislation, maintaining correspondence with state representatives' and senators' offices, and answering constituent questions about legislation."
This summer she interned in a Washington, D.C., lobbying firm that "has clients who represent areas from religious rights to foreign policy," said Simi. "I've always been passionate about effective public policy, and I decided that interning for a lobbying firm would be the perfect way of furthering my knowledge of and my experience in developing policy. … I experienced policy development from its earliest of stages as I pursued a grass-roots campaign in support of a piece of legislation," she said.
The internship, through which she met Vice President Joe Biden, was an exhilarating experience for Simi. "Being in Washington, D.C., is the best feeling in the world — walking the halls of buildings where important decisions have been made, speaking with those who are making those decisions and meeting the future decision makers has been an invaluable opportunity," she said.
Come fall, Simi will be back in class studying economics and international affairs. "I will be working on a Directed Independent Study and will begin an Honors in the Major project in the spring," she said.
And what does she plan to do when she graduates in spring 2012?
"I plan to get an advanced degree in International Development Economics and work within academia on policy. It's a field that links my humanitarian passions and my academic interests. Nothing would satisfy me more than to see the 3 billion people living on less than $2 a day overcome their immense poverty."
---
By Zilpha Underwood