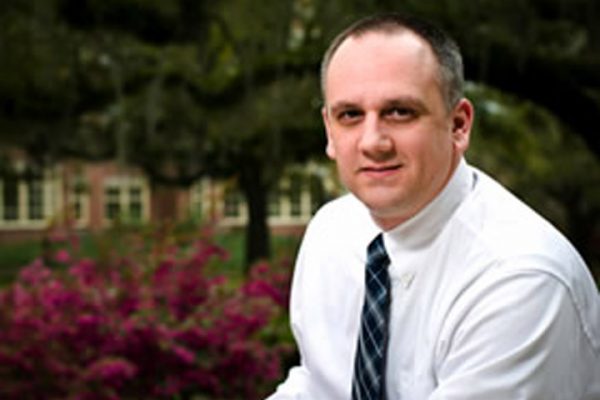 "I love everything about Cambodia — the people, the language, the food, the whole culture."
Matt Stanfill's interest in Cambodia began after high school, intensifying with each passing year until it ignited as the full-blown passion he feels for the country today.
"I love everything about Cambodia — the people, the language, the food, the whole culture," said Matt, whose wife is Cambodian. He has studied Khmer — the official language of Cambodia — for 16 years. He has been awarded a full Fulbright Scholarship to do research for his dissertation in that country.
Matt recently completed a master's in philosophy and is finishing work on his Ph.D. in education. He will live in Cambodia for 10 months studying and evaluating the effectiveness of teacher-training programs there.
Cambodia continues to struggle to overcome the damage it suffered during its civil war and the rule of the Khmer Rouge. During the 1970s, "a third of the population was killed by the Khmer Rouge government," Matt said. Today the country is impoverished and the population is poorly educated. "Cambodia is in the bottom quartile in education," he said.
Dr. Jeffery Milligan, professor in the Department of Educational Leadership and Policy Studies, immediately recognized Matt's commitment to Cambodia.
"One of the things that impressed me from my first meeting with Matt … (was) his interest in Cambodia. When he joined the Sociocultural and International Development Education Studies (SIDES) program he already had unusually strong language skills in Khmer, but he also had a clear plan for enhancing his language skills and knowledge of Cambodian culture through study (there) in preparation for his dissertation."
During the summer of 2008, Matt participated in the Advanced Study of Khmer program at the Royal University of Phnom Penh. "I was the first Florida State student to be awarded a (grant) to study Khmer funded through the Fulbright-Hays Scholarship program," said Matt.
Khmer is spoken by millions of people in the world. "It has 33 consonants and 21 vowels," said Matt.
"I have been asked to be a visiting lecturer — both teaching and advising graduate students — at the Royal University of Phnom Penh in the fall in its Master's of Education program," said Matt.
Matt will be busy during his time there, lecturing and working on his dissertation — gathering data and writing. Dr. Thomas Luschei, whom Matt worked with as a graduate assistant for a team engaged in improving education in Indonesia, is confident of Matt's success. Florida State works with seven Indonesian universities to improve teacher-education in the region.
Part of Matt's work with the Decentralized Basic Education project in Indonesia involves working with Indonesian students at Florida State. Matt's concern for and support of the students is obvious, said Dr. Luschei. "He responds warmly to their requests for advice or help," he said. "This is a reflection not only of Matt's good work, but also of his extremely good nature."
Matt's research training and background in philosophy give him unique tools with which to conduct his fieldwork, said Dr. Luschei. "(His) perspective on teacher development probes the assumptions and theoretical frames of … Cambodian teacher-preparation policies," said Dr. Luschei. "He will produce research that will be interesting to scholars, international development professionals and Cambodian educators and education officials."
Matt's affinity for the country should add immeasurably to the project. "I regard Cambodia as my second home," said Matt.
---
By Zilpha Underwood