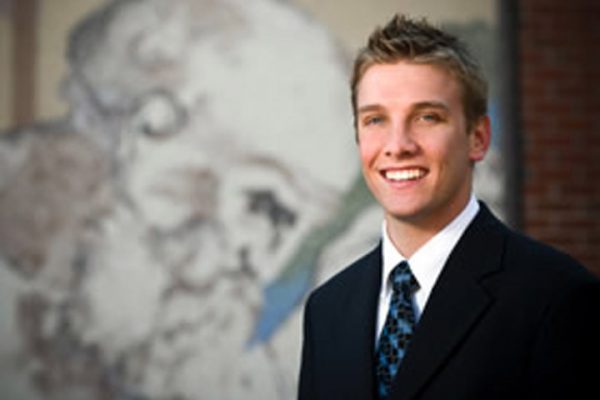 " learned how fragile life can be. … (and) came to believe in the interconnectedness of humanity."
Florida State senior Jesse O'Shea says he tries to live his life guided by two principles. "One is 'We have an obligation to lessen the sum of human misery in the world,'" said the recent Profiles of Service Award winner. "The other is 'Never accept the status quo.'"
Don't mistake these lofty words for platitudes. Jesse's actions support his convictions. Confronted by the suffering of Haitians after the devastating 2008 hurricane season, he founded the Global Haiti Initiative. Concerned about access to basic medical care in America, he started Students for United Health Care Reform in 2009.
He and fellow students launched Protect Our Professors and raised more than $125,000 when the state budget shortfall threatened faculty jobs last year. Believing student government would be strengthened if more students were involved, Jesse and friends formed the STATE Party after a couple of old parties dissolved. He also helped establish the Student United Way in 2008.
"I'm very proud that the Student United Way has continued to grow," he said. It is good for the community and "it fosters and develops leadership among students."
But it's the Global Haiti Initiative that's closest to his heart. "It's my pride and joy," he said. Twenty universities are involved in this intercollegiate clearinghouse for developmental programs in Haiti. "Having clean water — something we take for granted — is a huge problem there," said Jesse. The Florida State chapter of the initiative has sponsored clean-water, de-worming and education projects. In August, the initiative will send a group of 15 students to Haiti to help finish building a clinic.
After this year's earthquakes in Haiti, Jesse and fellow students formed Noles for Haiti, "It is the official Florida State response for Haiti relief."
Jesse was recently named one of 20 members of USA Today's All-USA College Academic First Team, based on his academic and leadership accomplishments. He was a finalist for the highly competitive Truman Scholarship this year. After visiting his brother Joe, a Florida State alumnus who is a Rhodes scholar studying in Oxford, England, he is considering applying for that award, the most prestigious honor in higher education. "My brother told me I should go for it."
Craig Filar, director of the Office of National Fellowships, surely will encourage Jesse to apply for a Rhodes Scholarship as well. "Jesse's work on the Truman Scholarship application was exceptional. He's an outstanding student, and he is deeply engaged in the global community," said Filar. "The work he has done here on campus and abroad on behalf of the Haitian community is just one example of how Jesse strives to make the world a better place."
Jesse obviously spends a great deal of time doing public service, but that doesn't seem to have taken away from his studies. He has a 3.8 grade point average. During the upcoming fall and spring semesters, Jesse will be a lab instructor for biology for non-majors.
During high school Jesse's interest in public service prompted him to volunteer with hospice in his hometown of Clearwater. "I worked on the Hospice Lifetime Legacies project. I videotaped patients talking about their lives and helped them put together scrapbooks for their families." Later, he worked as a volunteer after-school at the Clearwater Free Clinic for two years. "I was doing office work and began to understand the problems inherent in our health-care system," said Jesse.
His experiences as a high-school student, the life-changing visits to Haiti in 2008 and the devastating loss of both parents in less than two years, have had a profound effect on Jesse. "I learned how fragile life can be. … (and) came to believe in the interconnectedness of humanity."
This summer Jesse prepared for and took the Medical College Admission Test, with the goal of becoming a physician.
"My goal is to spread compassion and to channel its power into action," he said. It seems like Jesse has been doing that for some time.
---
By Zilpha Underwood